Rainbocorns are a collection of part animal and part unicorn from Zuro Toys. Each Rainbocorn comes in a pink plastic egg with a protruding unicorn horn. Kids don't know which Rainbocorn they have until they unbox it.
Last year, Rainbocorns topped the NPD 50 toy list, over 10 retailers listed it as a top holiday gift and the toy earned seven industry awards around the globe. The first series sold out globally within its first month with retailers doubling their reorders in the first few weeks of product hitting shelves.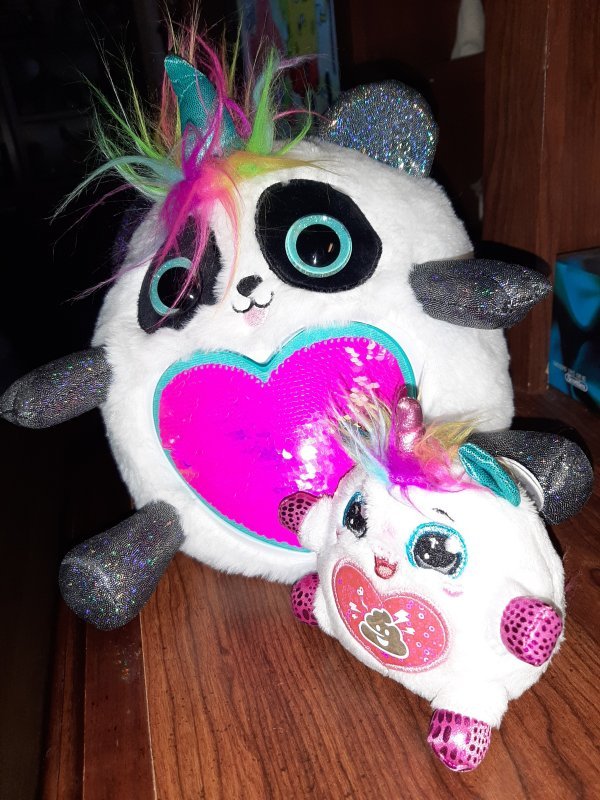 The second series of Rainbocorns have recently been released and this time they come with even more surprises. Sequin Surprise series 2 features 13 stuffed animals to collect, and each egg includes 10 layers for kids to unbox.
Each of the 13 Rainbocorns have a a mane, a unicorn horn, a tail, and butterfly wings. The new series includes Flamingocorns, Pandacorns, Unicorns, Llamacorns, Owlcorns and Lioncorns. There is also a rare gold Flamingocorn. Among the Rainbocorns Sequins Surprise Series 2 characters there are two exclusive characters at US Target and Walmart. Target carries a gorgeous plush owl and Walmart features a cuddly panda.
As with the original Rainbocorns, there's a flip sequin heart that you snap onto the Rainbocorn's belly. Children can rub their heart to reveal a surprise design. Along with the plush, you'll find a surprise accessory, Boo-Boocorns, stickers, Rainbocorn poop, and more. Each of the Rainbocorns has a sweet scent that isn't overpowering.
Sparkle Heart Surprise
The Sparkle Heart Surprise series is a collection of smaller eggs and plush. Each smaller egg has five surprises inside. The reveals don't stop with the type of Rainbocorn, though. In the middle of each Rainbocorn is a sequined heart. Peel away the heart to reveal a hidden image. There is six plush in this lineup, which includes a cat, bunny, unicorn, dog, llama, and flamingo. Don't they all sound fabulous? We unboxed an adorable white Llamacorn.
Lastly in the Sparkle Heart Surprise series, there is a smaller egg in the bottom of the pink eggshell. Inside that egg, kids will find one of 18 "boo-popcorn," a small, collectible, plastic baby Rainbocorn. Just dip the Boo-Boocorn into cold water to watch it change color. You'll also find rainbow poop slime inside that is fun for kids to play with. The rainbow poop is rather cool. It's two-toned colored and super stretchy. We find the little bow-bowcorn egg is the perfect place to store our unicorn poop.
Like the larger eggs, the pink egg also doubles as reusable storage for the Rainbocorn, however, the zig-zag edges are hard to close.
Miss P loves plush toys and anything soft, or sequin. Not to mention the whole unboxing experience is lots of fun. Overall,  Miss P really enjoyed playing with her new Sparkle Heart Surprise and give the Rainbocorn line a big thumbs up.
If your child is not a fan of unicorns the Smashers Epic Dino Egg, is also available and sold separately.
Visit them at www.zuru.com. Follow on Facebook @ZURUToys, Twitter @ZURUToys, and Instagram @ZURU.toys.
Shop Amazon