When you're busy shopping for Christmas presents, stocking stuffers might be a bit of an after thought, a last-minute hurry addition to the holiday shopping. This year get ahead of the game with a stocking stuffer than he will actually use.  If  he needs to change a toy's batteries, swap out a thermostat, or tighten his reading glasses,  then he needs the Deyard Upgraded SG-456 Precision Screwdriver Set.

What is the best screwdriver for computer technicians?
As someone who uses tools on a daily basis I can tell you that the Deyard Upgraded SG-456 Precision Screwdriver Set is a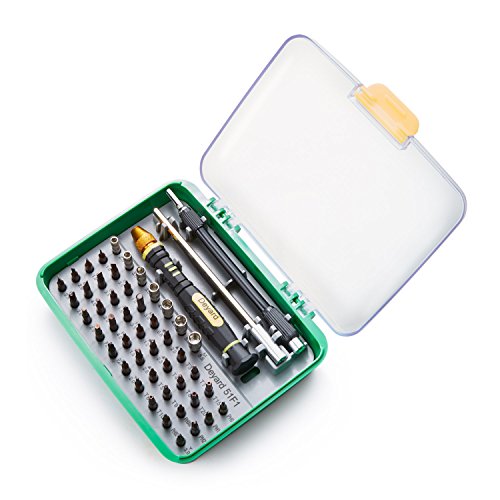 great tool kit to have. The screwdriver's handle is comfortable and easy to handle. It  features a silica gel covering that makes it easy to work with. I  like the convenient storage case that stores the different bits. It even included a none-static tweezers and an extension driver for those hard to reach or tight spots where you can't get your hand in.  Example: When working on a rack server or PC tower!
The quick disconnect and driver bit change is as easy as pull and replace. Therefore, whatever your task is this product makes it painless to get the job done in a timely matter.
As far as bit selection goes, I couldn't find a more complete set out there. If you have a hobby that revolves around the precision screwdriver, it makes sense to ensure that you have all of the available bits. This set covers the entire range. The bits easily fit in the nose of the screwdriver, where a magnet holds them in place. They are also  easy to remove.
The Deyard Upgraded SG-456 Precision Screwdriver Set is inexpensive and the good bit selection can meet most people's needs for working with electronics, toys, and other small hardware.
Available for purchase via Amazon.ca.