Do you remember Cabbage Patch Kids? Cabbage Patch dolls were created in 1978 by Xavier Roberts. By 1983, Cabbage Patch dolls were in such demand that parents would camp out at stores overnight in the hopes of getting their hands on one. By the end of that year almost 3 million of the Cabbage Patch Kids Toys had been adopted. Thanks to the success of Cabbage Patch over the last forty-one years the Cabbage Patch doll continues to be an important part of children's childhood. Just in time for the holiday season, Wicked Cool Toys introduces a whole new crop of Cabbage Patch Kids for your little ones to adopt. These all-new dolls will be flying off shelves this Christmas.
Cabbage Patch Woodland Friends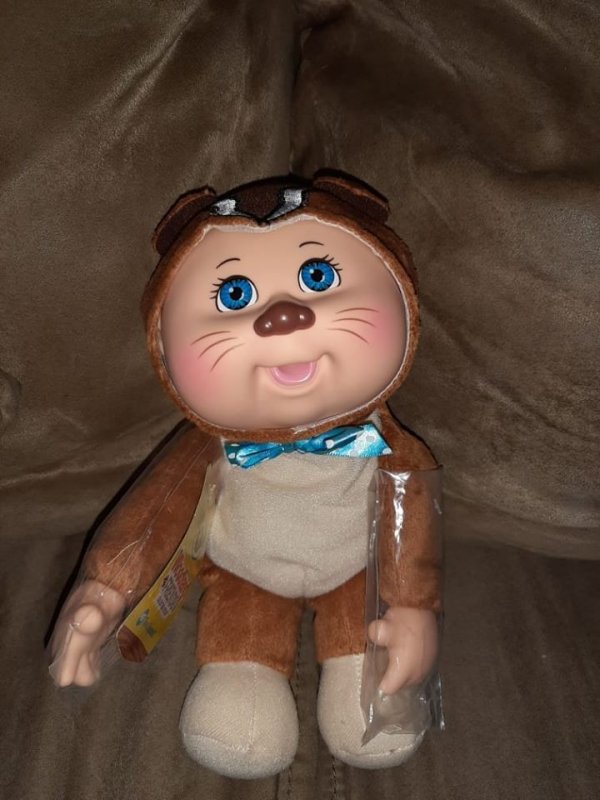 Perfect for children eighteen months and up Cabbage Patch Woodland Friends are a hot holiday toy this year. It's no wonder why though; they're absolutely adorable. The all-new 9" Cabbage Patch Woodland Friends arrive decked out in animal-themed onesies. There are six animal-themed dolls to collect. Cabbage Patch Woodland Friends include Theo Chipmunk, Reynolds Deer, Beau Fox, Millie Mouse, Phoebe Bunny, and Ophelia Frog.
We own Theo Chipmunk. Isn't he the cutest?
Like other Cabbage Patch dolls, Woodland Friends feature vinyl hands and heads. They also have a soft baby powder scent and are able to "suck" their thumbs. Each of these dolls is super cute and would make the perfect first doll for a child or a fun collectible for a Cabbage Patch fan.
Cabbage Patch Splash 'N Float Tiny Newborn!
Also new is Splash 'N Float Tiny Newborn! Unlike other Cabbage patch dolls, Splash 'N Float Tiny Newborn 9-inch dolls are perfect for bathtime fun. Featuring a vinyl body each Cabbage Patch Kids Splash 'N Float Tiny Newborn comes with her own swimsuit, matching headband, or sunglasses. Each doll comes with an adorable Unicorn or Flamingo. These dolls are a perfect addition to the Cabbage patch line and just the right size for toddlers' small hands.
Cabbage Patch Kids Surprise & Reveal
Each soft-bodied Cabbage patch comes swaddled in green fabric, resembling a piece of cabbage. Remove the swaddle, and the baby doll is wearing cute printed pajamas. Check under the pajama flap to find if your doll is a boy or girl by the iconic signature. Children who love unboxing toys will love the excitement of finding out whether their doll is a boy or a girl. Each 9-inch newborn comes with a hidden bottle that matches the baby's signature color.
Check out these all-new Cabbage Patch Kids and more at cabbagepatchkids.com.
Do you own a Cabbage Patch doll? Did you own one as a child or did your kids?
Shop Amazon for Cabbage Patch Kids