I'm a nonsmoker, but long live the cigar and the children brought into this world with the smoking of one.
The birth of my great-niece last November has me thinking about the tradition of handing out cigars. From Morinville, Alberta my brother sat eagerly awaiting news from Ontario that he was a grandfather. Carrying on the tradition of two middle names, my beautiful great-niece was born on November 11th during the early morning hours. My brother celebrated his granddaughter's birth with the smoking of a fine cigar.
For generations, it has been a tradition for fathers to pass out cigars to announce the birth of a newborn baby. It is unclear

exactly where or when the tradition began, but it is believed that it originated with American Indians, who would exchange a primitive cigar to celebrate the birth of a child.
Perhaps, it could have simply come from the fact that births were once done in the home. The dad-to-be would wait anxiously in one room while the baby was being born in another. After the baby was born men would then celebrate with their friends and relatives in the parlor or other room in the house by smoking cigars.
Whatever the case, the practice later made its way to the hospital, which were and still remain commonplace for giving birth. Of course, today if you tried smoking a cigar in the hospital, you'd be kicked out and fined.
Whatever the origin, it's a tradition that held strong for many years. Today, this long-standing tradition seems to have been forgotten by our younger generation. Perhaps, it is because these days, dads play a more active role in their wives' pregnancies.
They no longer pace up and down nervously outside the delivery room waiting on news of the baby and then give out cigars afterward. When I was born, some 40 + years ago, my father waited in another room while the messy business of delivering me was handled by my mother and a medical professional. My birth was then celebrated with a cigar.
The birth of my great niece, and the fact my brother smokes a cigar, had me evaluate the corner of the cigar world. Thankfully, I had Cory Grover of Famous Spoke Shop's advice and recommendations, as personally, I hadn't a clue.
With the birth of a child- you may want to make a bold statement with the cigars you hand out. Amongst the most popular cigars appreciated today is the Reserva Real, made by Romeo y Julieta. Named after William Shakespeare's tragic lovers, the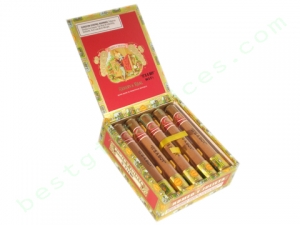 origins of Romeo y Julieta cigars date back to 1875. The popularity of the brand grew through the 20th century, favored by the rich and powerful. Unlike the classic version of Romeo y Julieta, the Reserva Real creates a creamier, smoother character.
The Reserva Real is expertly crafted with a medium body smoke, rich nutty, toasty flavor and a tender aroma. It is the perfect cigar to be enjoyed after dinner. Each cigar is elegantly packed in a glass tube for added freshness and is stamped with It's a Boy or It's a girl on the cedar sleeve.
If you are a nonsmoker- you can always have both chocolate and it's a boy/girl cigars made by Romeo y Julieta on hand and let the receiver choose his "poison"!
A box of 10 it's boy/girl cigars made by Romeo y Julieta will normally run you around $63.00, not including taxes. That is about $6.00 a cigar, which won't break the bank, and even non – cigar smokers would like this cigar- or so I have been told.
There are even cheaper choices in cigars, which will run you around $2.00 a cigar, but they are best suited for those who are less likely to smoke them.
Whatever brand of cigar you choose, you can find a number of different it's a boy / Girl cigars at Famous smoke shop. All purchases from Famous Smoke Shop come with a 30-day money-back guarantee.
Overall I recommend buying a $16.00 cigar for yourself, the Romeo y Julieta for cigar smokers and the cheaper brand for the people you don't think will smoke them.
What's your favorite cigar? What brand does your husband or father smoke?