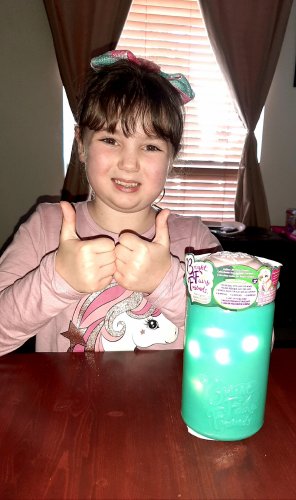 The new BFF Bright Fairy Friends Collection from Funrise is perfect for fans of fairies, small dolls, and mystery unboxing toys. There are 12 Bright Fairy Friends available in series one. The exciting part is you don't know which fairy doll you are going to receive until you unbox her.
Each fairy comes housed in its very own fairy home with bright, motion activated twinkle lights. If you have a child that is afraid of the dark the fairy's home also doubles as a night light which stays on just long enough for your child to fall asleep. The case itself has a switch, so it can be turned on and off to save battery life. There is also a handle making night time trips to the bathroom a breeze.
Each doll comes with a light up feature which makes their wings glow. Just press her necklace to activate the glow feature.
There is even more. Bright Fairy Friends come with accessories. The accessories come in a blind bag so you don't know which color accessories you will get until you unbox them. The little fairy comes with a stand to stand her up on, a small bottle of fairy dust and a brush to brush her hair. Also included is a two piece charm clip to give to share with a friend. Kids can enjoy swapping out their fashions and accessories with other Bright Fairy Friends!
When play time is over everything fits back into the jar for storage.
On the back of each jar is a poem. The poem is about the Bright Fairy friends and the enchanted forest and where they come from.
From a Magical Land, Where BFF's radiate light,
With a sprinkling of fairy dust,
Creating a world that's cheerfully bright.

All the very best friends,
whether near or far,
They set out on Adventures,
Regaining Magic in their Fairy Jar.

In the whimsical forest,
these fairy friends call home,
Where they grow and blossom as one,
And never alone!
Meet the BFF Bright Fairy Friends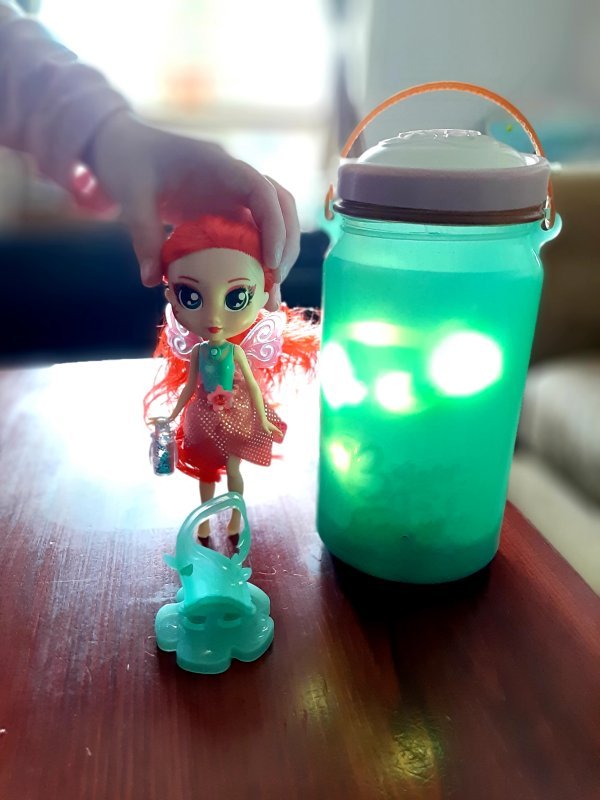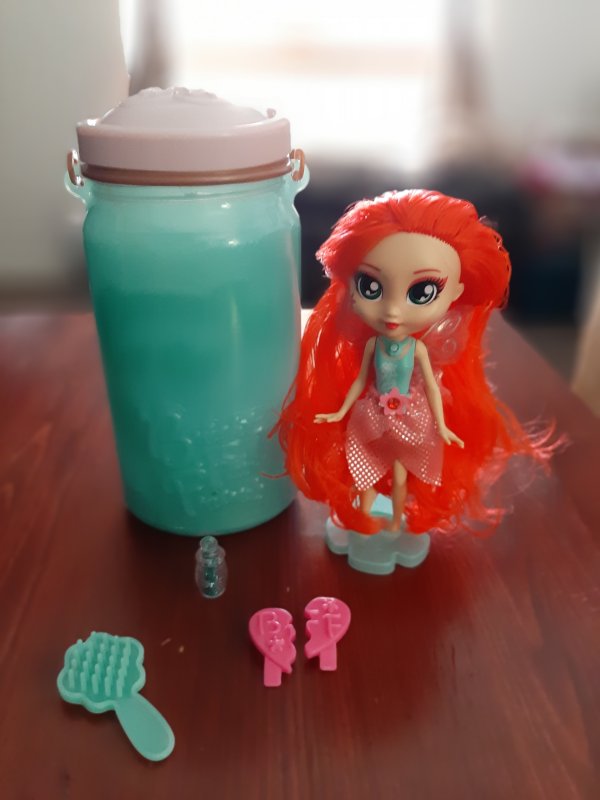 Miss P unboxed Sophie and she is absolutely beautiful. "Sophie cheers loud and she cheers proud with unwavering support for her all BFFs. She's loves watching her Bright Fairy  Friends grow strong and bright becoming the best fairies they can be. There's not a creature in the Enchanted Forest she wouldn't share a loving hug with or tend to when in need. Sophie shines brightest when she shines with her BFFs."
Also available to collect are:
Dali
Sunny
Opal
Lily
Rosie
Fleur
Cami
Nina
Harper
Dani
Penny
Our Thoughts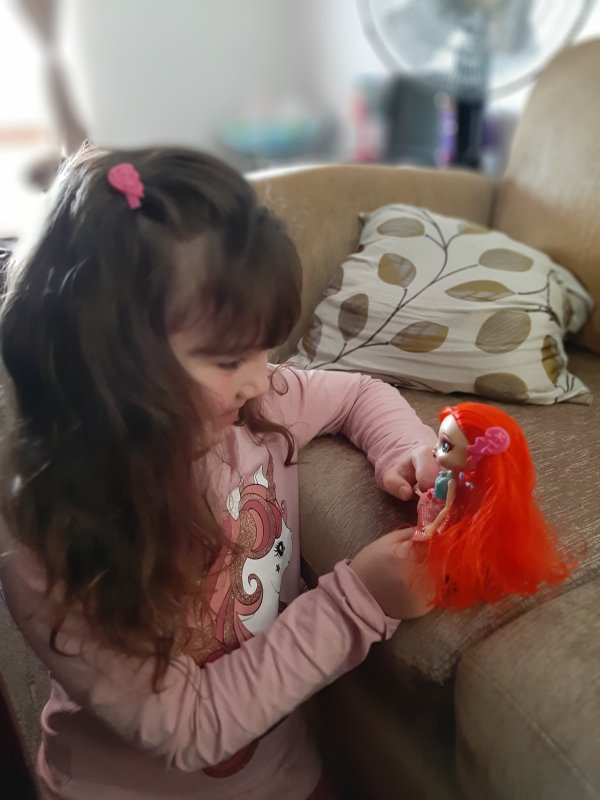 They fit nicely in the stands, but they are a little top heavy and wanted to tumble over. I also wish the lights stayed lit. Nonetheless, Miss P loves BFF Bright Fairy Friends and has already added them to her holiday wish list.
BFF Bright Fairy Friends Queen Light Fairy Regina
Also available is Queen Light Fairy Regina. Regina is the queen of all the fairies. She is the leader in the Enchanted Forest. Queen Light Fairy Regina features light up fairy lights wings that change colors as you touch them. Press her necklace and her wings light up.
The official retail launch of BFF Bright Fairy Friends is also accompanied by a brand-new animated content series on YouTube chronicling the friendship and adventures among all the Bright Fairy Friends. The series is available now and can be seen at the Bright Fairy Friends official YouTube channel page.
Find out more at brightfairyfriends.funrise.com. Bright Fairy Friends are available at: Canadian Tire, Toys "R" US, and Walmart.
About Funrise
Funrise is a global innovator and industry leader in the design, manufacturing, marketing and distribution of toys worldwide. Delivering fun for kids of all ages, Funrise portfolio consists of its own brands including BFF BRIGHT FAIRY FRIENDS™, GAZILLION®, HERODRIVE™, FART NINJAS™ and RBUK, as well as licensed properties from premier partners.
Funrise is headquartered in Van Nuys, CA, with additional U.S. offices and showrooms in Minneapolis, MN and Bentonville, AR, and international offices in Canada, Mexico, United Kingdom, France, Spain, Australia and Hong Kong. Funrise is a wholly-owned subsidiary of Matrix Holdings Limited.