Ravel Tales Series 1 is here just in time for the holiday season. From Sunny Days Entertainment Ravel Tales is the newest and most innovative children's DIY collectible that offers hours of fun. The company brought together the fun of unboxing with DIY, crafting collectibles and plush to create a whole new world of fun.
This new collectible takes the unboxing experience and surprise reveal to the next level. Start your journey by unwinding your yarn ball and uncovering 12 fun surprises along the way.
Untangling the ball
The unraveling is easy. The experience begins with your child unwinding the yarn ball to uncover 12 fun surprises including DIY accessories, a sticker sheet, button charms, and more. I loved that there are no layers of plastic to undo. Instead the unravel forms your craft materials. At the end of the ball of yarn, you will reveal a surprise Ravel Tales plush character. Each layer of yarn has a purpose, from creating the Ravel Tales pet bed to matching friendship bracelets and necklaces. You can even make a pet collar for your Raven Tale.
The Characters
There are twelve fun characters to collect. There are so many cute friends to find – Knittens, Button Bears, Purl Ponies, and Pom Pom Pups too!  Will you uncover a Rare Raveller? Look for Banjo and Piccolo, each with gold and sparkle details.
We got Puppadoo and Miss P could not have been more pleased! In fact, Maxi our Shih Tzu likes Puppadoo too. The characters come with a bean-filled bottom to help the character sit up.
DIY CRAFTS
Inside the box, you will find paper collectors guide as well as an instruction leaflet with clear instructions for each craft.
Cushion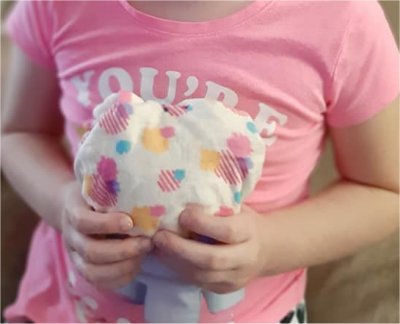 Straight away, Miss P wanted to make Puppadoo her cushion. She loves that the fabric matches her pet and apparently Puppadoo needed her pet bed. All the yarn is labeled clearly to show you which craft it is for. The fabric is pre-cut with holes making it easy for the beginning sewer. Once sewed all that is left to do is stuff your cushion with the included stuffing.
Collar, bracelet, and necklace
Next up Puppadoo needed her collar and  Miss P loves that the kit comes with matching bracelets and a necklace for her. Making bracelets, collars, and necklaces is pretty easy though younger kids might need some help. Miss P loves her friendship bracelets. After all a girl can never have enough bling. You get a lot of thin yarn to make the friendship bracelets and pet collar so don't worry if you make a mistake.
Pom Pom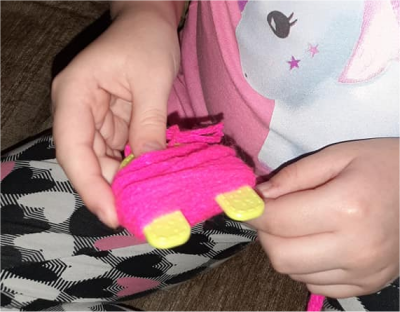 Finally, we had our pom pom to make. I love that the pom pom maker can be used time and time again. Rapping it around the maker was really easy, but Miss P did have some difficulty when it came to cutting the pom pom. I would recommend pulling out one strand of the medium yarn to tie the pom off as it pulls it tighter.
Our Verdict
Ravel Tales is a super fun, new addition to the mystery reveal trend. I like that there is hardly any packaging waste. In fact, Miss P even recycled the cardboard box that Ravel Tales Series 1 comes in. She made a dog house out of it.
I do warn you to have your child be careful when unwinding the ball as some of our string got nodded up and I spent a good 30 min untangling it. Young kids may need some help making the projects.
Kids can even share their experiences and DIY crafts by joining #TheUnravellers on social media and learning new ways they can use their imagination with Ravel Tales!
Overall, Ravel Tales is lots of fun and there is lots of creative play to be had, as well as imaginative storytelling.
Let's go shopping
Ravel Tales is now available in major retailers across North America including Walmart, Amazon, Target.com, and Major retailers ranging from $9.99 USD to $12.99 USD. Series one will include 12 assorted Ravel Tales characters, plus two ultra-rare ravellers; perfect for collectors and crafters ages 5+.
Follow Ravel Tales on Instagram, Facebook, and YouTube @RavelTales
About Sunny Days Entertainment, LLC
Established in 2012, Sunny Days Entertainment LLC is a fully integrated toy company specializing in solving retailers' problems while delivering ultra-fun, value-added toys to consumers. Ranging from vehicles to collectibles, Sunny Days Entertainment, LLC brands include Maxx Action, Blue Ribbon Champions, Elite Force, Ravel Tales, and more! Visit us online at sunnydaysent.com for more information.
About Ravel Tales
Get ready for the adventure of a lifetime with Ravel Tales! The newest and most innovative children's DIY collectible for kids 5+. The more you unwind the more you find. Ravel Tales takes the unboxing experience & surprise reveal to the next level!
Ravel Tales received the National Parenting Seal of Approval in April and was listed as the #1 New Release in Stuffed Animals and Toys on Amazon and sold out within the first week. Amazon is now restocked.