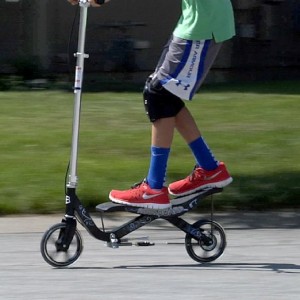 In today's day and age where a large majority of children seem to have everything they could dream of, from the newest game consoles to a mobile phone, it can be difficult as a parent to know what to buy them. Parents are also increasingly concerned that their children are spending too much time inside and not enough time outdoors.
On a mission to provide today's youth with fun ways to enjoy spending more time outdoors, Rockboard Scooters have combine the drive-chain propulsion of a bicycle with the practicality of a kick-scooter. This would be the perfect gift for Christmas.
The Rockboard RBX Scooter uses a rocking system, allowing the scooter to reach speeds up to 10mph. Basically you rock back and forth on the scooter and this causes you to move forward. The faster you rock up and down, the faster it goes; though kids are able to switch from the Rockboarding mode to the low-profile kick scooter mode that they have grown accustomed to.
Another feature that I love is that the Rockboard has a handbrake to stop. The base of the Rockboard (where your feet go) is sufficiently lined with a grip material that helps prevent your feet from slipping while in motion.
The scooter has height adjustment making it east to set the adjustment for tall or shorter riders. While the target market for the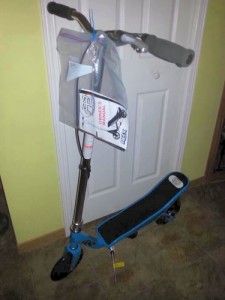 scooter is 8 – 16 year, adults can get in on the fun too as the scooter is built to handle adults, with a weight limit of 220 lbs.My son has informed me that scooters are often a mode of transportation around his urban area in Ottawa and on his University campus.

The Rockboard RBX Scooter does require a small amount of assembly, but with clear instructions, and included tools, assembly is quick and easy. My husband had the scooter together in five minutes.
Rockboard also carries a mini scooter and the original scooter. I highly suggest the mini scooter for younger children. The Rockboard Mini is a scaled-down version of the popular Rockboard Scooter. It is designed for riders ages 5 and up, and can handle up to 90 pounds.
Please do not forget the helmet. Helmets prevent between 63 and 88 per cent of brain injuries. This safety tip cannot be overemphasized. The very first thing that you should do after buying a Rockboard Scooter is to purchase a quality bicycle helmet and make sure that it is being worn.
While you may find it hard to get your child to wear his/her safety padding, having a set on hand when they are still learning to ride their scooter wouldn't hurt either.
The Rockboard Scooter is currently available at more than 300 retail locations in the U.S. and is available to Canadian residents as well. To see a list of retailers or to view the Official Rockboard Scooter Video, visit http://www.rockboard.com.