If you are a child of the 70's you might recall Fashion Plates. This vintage toy was first released by Tomy Brand.  The fasion plates allowed budding fashionistas like myself to design trendy clothes. The plates were patterned plates that a child could put together to form a fashionable outfit. The basic set came with 15 plastic plates comprised of various outlined shapes of wardrobe pieces.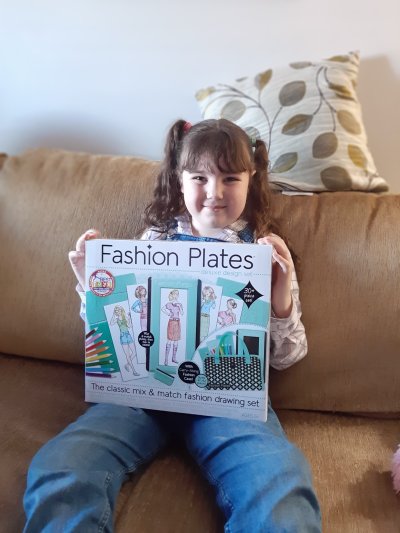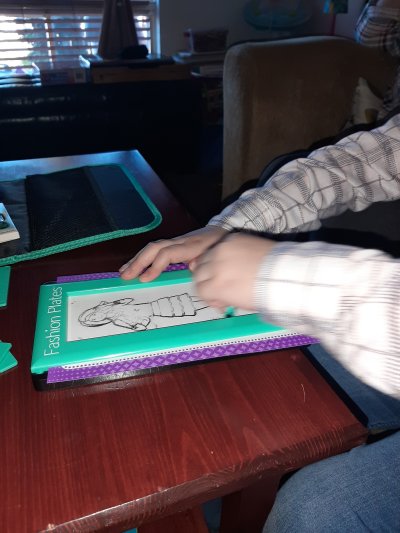 Imagine my delight to learn that fashion plates have made a come back . Playmonster has given the fashions themselves an update, however the fashion plates works exactly as I remember.
Place  two or three fashion plates into the drawing tablet, put a piece of blank paper over it, and close the frame. Hold the frame in place with one hand while rubbing over it with the black crayon with the other to create the outline of the design. You can then color in your design with the pencil crayons that come in your kit or use your own markers. You can use the back of the plates to make designs on the clothes. Mix and match patterns on different parts of the outfit. The possibilities are endless. Get ready for some totally chic outfits.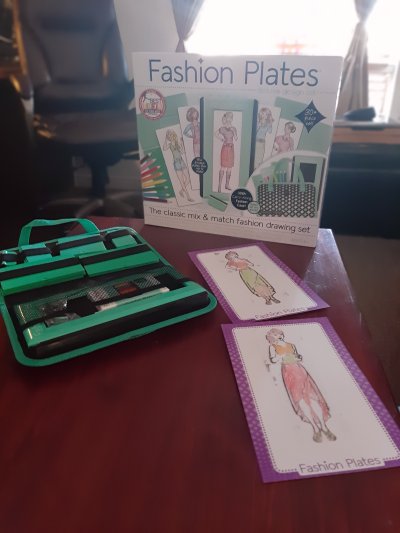 All of the pieces fit back into the double handle carry case making it easy for travel and storage. I love this part!
We own the deluxe design kit, but you can also purchase the super star kit, retro kit, a travel kit and a sports kit. Also available is a action plates set that works like the Fashion Plates Deluxe Kit.
My Thoughts
This fashion play set is an easy way for little fashionistas like my daughter to express herself. And needless to say, she is having as much fun with it as I did when I was a child. I'm not sure who loves these more – my daughter or me!
Contents: 15 Fashion Plates, 20 Sheets of Paper, 8 Colored Pencils, 2 Rubbing Crayons, Crayon Holder, Drawing Tablet, Fashion Carrying Case, Idea Guide.
The Fashion Plates Deluxe Kit makes a wonderful gift this upcoming season that is sure to bring back lots of memories. Why not order your set today. Oh and if you are fortunate enough to have your old plates from when you were a child then be happy to know they will work with the new version.
See you on the runway!
About PlayMonster
PlayMonster, a leading international toy and game company, believes in the power of play to make a positive difference in people's lives, and strives to keep play alive for all ages by delivering great play value through designing, manufacturing and marketing innovative and fun toys, games and activities. PlayMonster's diversified portfolio includes popular brands and products such as "TOTY Game of the Year" Yeti in My Spaghetti®, plus THINGS…®, 5 Second Rule®, Relative Insanity®, Farkle, SET®, Five Crowns®,  Spirograph®, Colorforms, My Fairy Garden®, Face Paintoos™, Fashion Plates®, Y'Art®, Latchkits®, and Snap Ships™.