Adopting a puppy can be fun. Puppies are charming, cuddly, and adorable. However, being a pet owner involves several responsibilities. And one of the important questions you must figure out before bringing a puppy home is what food to give him.
Dog foods are not created equal – some cater to puppies, while others are best for adult dogs. Furthermore, puppy food is also classified into food for small-breed and large-breed pups. Basically, what you need to buy will depend on the breed of the dog you want to adopt.
Still, you can get overwhelmed by the many options reputable pet food suppliers can offer to you. There will be hundreds of brands to pick from. So to help narrow down your options and make the right choice, here are some tips on how to feed your puppy correctly.
Nutritional needs by size
Small breed pups are more likely to have a higher metabolic rate than their counterparts; thus, they will need more calories. Ideally, small dogs need at least four calorie-dense meals each day to prevent low blood sugar. Moreover, they will need smaller bites so they can chew and swallow easily and safely.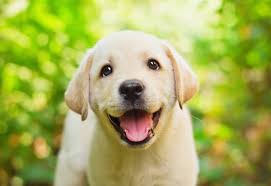 Large breed pups, on the other hand, will have different nutritional needs than smaller breeds. Since they grow faster and are bigger in size, they are prone to bone disorders, hip and elbow dysplasia, and developmental orthopaedic disease. To stop these issues, you must choose puppy foods meant to support the healthy growth of large breeds while avoiding overfeeding.
Best puppy food brands
As you try to find the best food for your pup, here's a guide to the best puppy food brands that just might help.
Royal Canin
Royal Canin puppy food is made specifically to meet the nutritional needs of small-breed pups up to ten months old.
It contains highly digestible fibers and proteins to promote good digestive health and enhance stool quality. It also has balanced levels of phosphorus and calcium to encourage healthy bone and joint development, as well as an optimal energy content to sustain your pup throughout his growth period.
With the addition of prebiotics and antioxidants, this premium puppy food boosts your pet's natural immunity. Moreover, it has nutrients binding salivary calcium to minimize the build-up of dental tartar.
Royal Canin is also known for its breed-specific diet, available for German Shepherds, Poodles, Pugs, Labradors, and many more.
Taste of the Wild
Taste of the Wild's high-quality puppy food is best for all sizes of puppies aged six weeks and above. It offers excellent nutrition and digestible energy for all growing pups. It has a blend of protein sources that provides an unmatched taste sensation. It also contains vegetables and fruits, offering natural antioxidants that help promote overall wellness.
Hills Science Diet
Puppy diet from Hills Science Diet is made with the nutritional needs of small breed dogs in mind. It is available in small kibble size to make chewing and swallowing a lot easier and safer for your canine. It is formulated from excellent quality chicken protein with natural ingredients.
It also contains antioxidants, along with vitamins C and E, to boost your puppy's immune system. More importantly, it has omega-3 fatty acids like DHA to ensure your dog's optimal eye and brain development.
Orijen
The puppy diet from Orijen is rich in fats and proteins sourced from different fresh whole meats to promote the speedy growth and development of your pet. This brand is known for offering puppy food that can nourish pups based on their biological and evolutionary needs.
Most of its meat content is dried at 90°C from fresh fish, turkey, and chicken to yield a concentrated source of nourishing protein. It is also infused with freeze-dried turkey and chicken liver to improve its flavor. 
Orijen also offers puppy food for large breeds. It is also rich in protein to support healthy weight and minimize stress on developing joints and bones.
Acana
Like Orijen, Acana offers puppy food for both small and large breeds. Both are filled with free-run chicken, whole nest-laid eggs, and wild-caught flounder.
Food for small breeds are packed into bite-size pieces to make chewing and swallowing safe for your puppies. On the other hand, food for large-breed pups has a limited amount of calories and carbohydrates to reduce stress on growing bones and manage healthy body weight.
Thrive
Thrive puppy food is made with chicken, venison, lamb, or salmon as the primary protein source. A selection of vegetables, fruits, vitamins, and minerals are added to give your puppy a well-balanced meal. It does not contain wheat or gluten, artificial anything, fillers, derivatives, and grain.
Vitalin

Puppy diet from Vitalin has been prudently formulated as a balanced, nutritionally complete recipe for pups to maximise pet growth and development. It is free from gluten, hypoallergenic, and contains chicken as a protein source with rice and nutrient-rich botanicals.
Canagan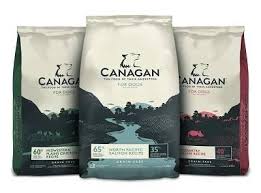 Canagan dog food contains super digestible proteins suitable for all ages. It is made from freshly prepared venison and duck complemented with beneficial botanicals and vegetables for a delicious, healthy meal for your pet. It also includes essential vitamins, minerals, and trace elements.
ZiwiPeak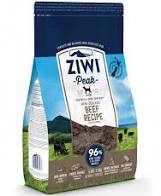 Made to meet your pup's biological needs, ZiwiPeak air-dried recipes have one to two protein sources, including beef, lamb, chicken, and venison. It is perfect for all life stages and breeds, and even to dogs with food sensitivity. The brand's air-drying technology preserves the freshness of raw ingredients without any artificial preservatives.
How much should your puppy eat?
How much food you give your puppy will depend on its breed and size. Generally, smaller breeds eat small meals frequently, while larger breeds eat bigger meals but less often.
Since puppies have small tummies, you should give their food in small portions for easy digestion and keeping their energy levels steady. So if your dog should eat a cup of their nutritious food, give them about a quarter cup every mealtime in a day.
Important Note: Since a puppy diet is generally high in calories, you must know when to stop giving your puppy food. Otherwise, your pup can become overweight and unhealthy. Visit your vet to determine if your dog has stopped growing.
Puppies have different nutritional needs than adult dogs.
The food they consume will make or break their growth, skeletal health, and immunity level. Look for puppy food that is made by a trusted pet food company that adheres to strict quality control processes. More importantly, feed your pup not for maximum growth but for optimal growth.
This means keeping your dog lean as it grows.
Pet stores offering pet food delivery in Dubai emphasize that improper nutrition will lead to disease and malnourishment while overfeeding can result in obesity and skeletal abnormalities in life.
If you're undecided on what to feed your puppy, consult a vet to determine your dog's specific dietary requirements.
Farah Al-Khojai is the Managing Partner of Pet's Delight. A passionate entrepreneur, Farah holds a Bsc in Government from the London School of Economics. She is always on the lookout for new opportunities to develop and grow the pet and equestrian retail and wholesale market in the UAE and beyond, and is proud to be at the helm of the first and the largest pet care provider in the market representing world-class brands including Orijen, Applaws, Hunter, Savic, Flamingo, Ruffwear and Rogz.