An old proverb says the fastest way to the heart is through the stomach, which is why Green & Black's Organic is inviting Canadians to indulge with chocolate. Made from the finest organic ingredients and certified Fair Trade, Green & Black's Organic chocolates are available in a range of unique flavours from smooth, sweet, milk chocolate to the most delectable dark chocolate. Perfect one square at a time as a token of your affection, or lovingly prepared into a romantic meal or snack with those you love most.
Cooking with chocolate is the perfect way to indulge your sweetheart on Valentine's Day. To help you get closer, Green & Black's Organic offers these mouthwatering, romantic recipes that can be perfectly prepared for two: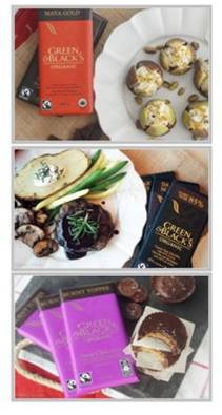 Chocolate Dipped Figs With Chevre Mousse Filling
A rich and colourful addition to any Valentine's Day menu – figs, a well known aphrodisiac, are elevated to a new sensual level when dipped in Green & Black's Organic Maya Gold Chocolate and filled with a savoury goat cheese mousse.
Rosemary Rubbed Beef Tenderloin with Chocolate Port Reduction
Quality ingredients are the secret to this indulgent and surprisingly simple recipe featuring all your favourite Valentine's Day tastes. Luscious Green & Black's Organic 85% Cocoa Dark Chocolate complements earthy rosemary and rich beef tenderloin in a Port reduction
Chocolate Peanut Butter Banana Cups
Have two ever been so perfectly paired as peanut butter and chocolate? These impressively simple, bite size cups feature a banana and peanut butter filling, coated in Green & Black's Organic Burnt Toffee Chocolate and finished with fleur de sel.
About Green & Black's Organic
Established in 1991 in England, Green & Black's Organic has grown to become a world leader in organic and Fair Trade chocolate and is committed to the creation of chocolate products that provide a taste experience like no other. Using only organically grown cocoa, sourced principally from the Dominican Republic, Green & Black's Organic believes it's possible to respect our earth while indulging in the best things it has to offer.
To find out more about Green & Black's Organic products and values, visit www.greenandblacks.co.uk and www.facebook.com/GreenandBlacksCanada