The most romantic day of the year is almost upon us. If there is one thing that goes with Valentine's Day, besides flowers- it's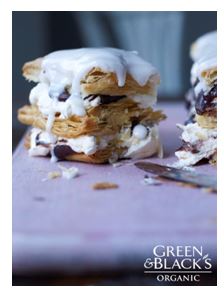 chocolate. Ever hear someone say that they could eat chocolate all day?   This upcoming Valentine's, Green & Black's Organic Chocolate invites you to celebrate your loved ones with chocolate – throughout the day.
Morning – Chocolate Crepes: Delicate, light and chocolate infused, crepes make taste buds swoon when drizzled with melted chocolate or wrapped around chocolate mousse.
Noon – Mille Feuille: There are a thousand reasons to love these delicious pastries, and they can be easily made at home by stacking layers of puff pastry, decadent melted chocolate and icing.
Night – Chocolate Chili and Chocolate Wine:A pot of homemade, chocolate chili can simmer away throughout the day, leaving you free to enjoy time with your special someone. Then, enjoy an indulgent nightcap of this incredible dark chocolate and port wine.
As a world leader in organic and Fair Trade chocolate, and with a flavour for every palette, Green & Blacks' Organic is a sweet gift for chocolate lovers and perfect for sharing. My husband and I have been known to share a bar or two. Whether you prefer Dark, Milk or White, there is a Green & Black's Organic chocolate bar for everyone.
This Valentine's Day I will be tucking a Green & Black's Organic Almond bar under my husband's pillow for a delectable, sweet, nutty, smooth and crunchy surprise.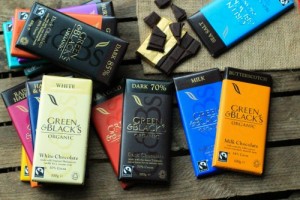 About Green & Black's Organic
Established in 1991 in England, Green & Black's Organic has grown to become a world leader in organic and Fair Trade chocolate and is committed to the creation of chocolate products that provide a taste experience like no other. Using only organically grown cocoa, sourced principally from the Dominican Republic, Green & Black's Organic believes it's possible to respect our earth while indulging in the best things it has to offer.
To find out more about Green & Black's Organic products and values, visit www.greenandblacks.co.uk and www.facebook.com/GreenandBlacksCanada