A new world of characters joins the Hasbro, Inc. (NASDAQ: HAS) portfolio this year with the launch of HANAZUKI, a story-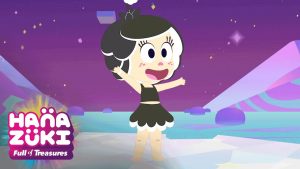 driven lifestyle brand that invites audiences to discover a new, visually stunning and far-off moon galaxy full of treasures, surprises, emotions, and a colorful cast of friends at the heart of it all. Hasbro's newest entertainment franchise-brand-in-the-making debuts with the Company's first ever animated digital series, HANAZUKI Full of Treasures, premiering on YouTube and the YouTube Kids app.
HANAZUKI, a spirited young moonflower, is at the center of this bold new galaxy where she embarks on an unpredictable hero's journey to save her moon from dark forces that threaten to destroy it. Through this adventure, she meets new friends, and discovers a world full of surprises and new feelings, ultimately learning that her ever-changing moods prove to be quite powerful.
The HANAZUKI brand is inspired by whimsical character creations originating out of Amsterdam and being brought to life by Hasbro through a rich and immersive storyline focused on the power of embracing how you're feeling, no matter what your mood.
"We couldn't be happier that our beloved HANAZUKI inspired Hasbro to further develop the colorful cast of characters and create such a unique and dynamic new world full of surprises and magical mayhem," said Niko Stumpo and Hanneke Metselaar, local Amsterdam artists and original creators of HANAZUKI. "It's been incredible to see Hasbro evolve the HANAZUKI brand into so much more through vibrant storytelling, toys, and beyond."
"In working closely with Niko and Hanneke, we were inspired by the spirit of Hanazuki and identified her as a strong,
multidimensional and relatable heroine," said Samantha Lomow, senior vice president, Hasbro Brands. "Within her effervescent world, we've developed a unique story that encourages audiences to embrace their ever-changing emotions and celebrate them in a uniquely empowering way. We know audiences will fall in love with Hanazuki and her magical and eccentric world."
Produced by Hasbro Studios in collaboration with Titmouse Studios, the HANAZUKI Full of Treasures animated digital series transports viewers into a distant galaxy full of colorful moons, and a mysterious dark force that threatens this new world. The story follows the adventures of HANAZUKI as she discovers she possesses a great power that is revealed when she expresses her many moods, which just may be the key to saving the entire galaxy.
As she explores her lunar world, HANAZUKI meets strange and humorous characters along the way, including spirited bunny-like creatures called HEMKAS, a sleepy moon child known as LITTLE DREAMER who delivers daily treasures, the self-appointed sheriff of HANAZUKI'S moon, DAZZLESSENCE JONES who sparkles and shines while making sure law and order is preserved, the aptly named SLEEPY UNICORN, and more.
For Hanazuki episodes visit https://goo.gl/niYRgf