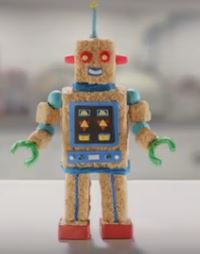 While the gift giving season is upon us not all Canadians have something to celebrate. For the 1 in 7 Canadian children living in poverty, presents under the tree may only exists in their dreams. This holiday season, Kellogg's Rice Krispies is encouraging all Canadians to tap into their gift-giving spirit. Make a difference while sharing a teachable moment with your children.
A recent survey by Kellogg's Rice Krispies reveals that seven out of ten Canadians (69 percent) find it more gratifying to give than receive. And 85 percent agree it is important to educate children about charitable giving. The Kellogg's Rice Krispies #TreatsForToys program is the ultimate holiday activity.
Kellogg's encourages families to create a toy-shaped Rice Krispies treat. Share it on social media with #TreatsForToys or at TreatsForToys.ca and give to the less fortunate! For each creation shared, Kellogg's Rice Krispies will donate $20 to The Salvation Army to purchase a toy for a child in need.
For the sixth anniversary of the #Treats For Toys program, Kellogg's Rice Krispies and The Salvation Army are asking Canadians to help them reach a milestone of 30,000 donated toys.
The Gift of Giving
"During the holidays, many parents want to involve their children in supporting those less fortunate," says Christine Jakovcic, Vice President Marketing, Kellogg Canada Inc. "We're thrilled #TreatsForToys has become a holiday tradition and provides a teachable moment for kids to give back in a fun – and delicious – way."
"Every child should experience the holiday joy of unwrapping a toy, but sadly, that's not the reality for many children in Canada," says Liuet.-Colonel John Murray, Secretary for Communications for The Salvation Army in Canada and Bermuda. "We can all make a difference and The Rice Krispies #TreatsForToys program provides an ideal way to combine fun with philanthropy for children."
Make. Share. Give!
Spreading joy this holiday season is as easy as Snap, Crackle, Pop:
1. Make: Choose a favourite Kellogg's Rice Krispies cereal variety, like festive multi-coloured Limited-Edition Holiday Rice Krispies cereal, Rice Krispies Brown Rice Gluten-Free cereal, or even Rice Krispies Original cereal and follow the Kellogg's Rice Krispies Treats original recipe on the box. Create a toy-shaped treat using the recipes on TreatsForToys.ca or get creative and design something unique.
2. Share: Upload a picture of the toy-shaped treat to TreatsForToys.ca. You can also share it on social media using the #TreatsForToys hashtag
3. Give:  Submit a photo before December 31. Kellogg's Rice Krispies will donate $20 to The Salvation Army for every photo submitted.
RK-Robot Build this cheery blue robot and you'll see it transform into a delicious treat right before your eyes.
Princess Pop A beautiful princess with flowing locks and a glittery pink gown turns fairytale dreams into sweet dreams-come-true.
Rice Krispies Roadster Vroom Vroom! Racing fans need look no further than a box of Rice Krispies for their next model car kit.
Visit TreatsForToys.ca for toy-shaped treats inspirations, including videos, recipes and more!
ABOUT KELLOGG CANADA INC.
Driven to enrich and delight the world through foods and brands that matter, Kellogg Canada is the leading producer of ready-to-eat cereal in Canada. Every day, our beloved brands nourish families so they can flourish and thrive. These include All-Bran*, Kellogg's Corn Flakes*, Corn Pops*, Eggo*, Froot Loops*, Kellogg's Frosted Flakes*, Kashi*, Kellogg's Two Scoops Raisin Bran*, Mini-Wheats*, Nutri-Grain*, Pop-Tarts*, Pringles*, Rice Krispies*, Special K* and Vector*. And we're a company with a heart and soul, committing to help create 3 billion Better Days by 2025 through our Breakfasts for Better Days global purpose platform. To learn more about our responsible business leadership, foods that delight and how we strive to make a difference in our communities around the world, visit www.kelloggcompany.com. To learn more about Kellogg Canada's efforts in these areas, please visit www.kelloggs.ca.