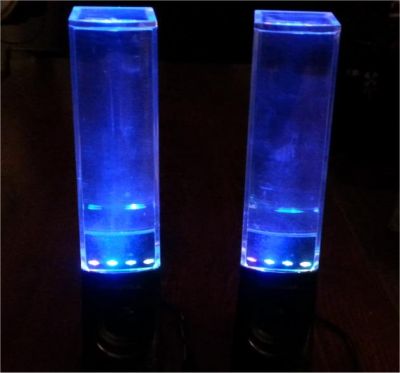 Music lovers can be a hard bunch to shop for. Instead of buying him another CD, why not not buy him a pair of SoundSOUL Dancing Water Speakers? SoundSOUL speakers are simple to set up, and a great way to liven up his music experience.
Plugged into a music player, the LED-colored jets of water burst in time with the music.  The fascinating visual effects it generates to different tunes and beats will capture his attention.
SoundSOUL Dancing Water Speakers come packaged with a 3.5 mm.  He just needs to plug it in, and it can start  his music right away. The speakers are also equipped with a voice companion to tell you what mode they are in, or whether they are paired or connected. This is a great feature.
The speakers offer 360-degrees coverage according to AudioReputation, and streams amazing and clear sound directly from smart gadgets such as smartphones, tablets, and even mp3 players. Compatible devices include smartphones, MP3 players, laptop computers, desktop computers, portable CD players, handheld video games, and more.
I tested them with my Android phone and my Asus Transformer tablet and found that they worked wonderfully.  Using the Bluetooth quick connect I set the speakers to Bluetooth mode and within seconds they were connected and ready to play. I also tested the range of the Bluetooth signal and started walking down my hallway, I was a good 9 feet away before these little powerful speakers lost their connection to my device and I had to re-pair them with the device I was using.
Standing  9" tall, they are the perfect size to take with you anywhere.  Overall, these speakers are visually stunning and give a pleasing audio and water dancing performance at an affordable price.
SoundSOUL Dancing Water Speakers are available for purchase via Amazon.ca.