Digital voice recorders support a variety of personal and professionals.  University students like my son use digital voice recorders in lectures and for study notes.  To narrow down your search in finding the best digital audio recorder we have a recommendation. The AGPtEK M23 8GB Digital Voice Recorder is a wise investment.
AGPtEK M23 8GB Digital Voice Recorder Review
We purchased the AGPtEK M23 8GB Digital Voice Recorder for our daughter who has an acquitted traumatic brain injury. She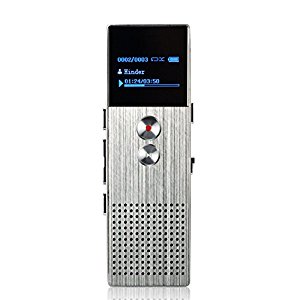 was in need of a device to record information "in the moment" for later recall.
The recorder features a nice slim design, that feels very sturdy and an onscreen display to allow her to switch or browse directories very easily. It also features a battery indicator to show her how much battery life is remaining and comes with a Micro-USB cable for charging.
The quick buttons on the front of the device are very easy to access, so she can start or stop recording without difficulty. The control buttons on the side allow her to fast forward, pause, stop or even go backward for easy playback. This model will also easily fit in her coat pocket.
This handy device comes equipped with 8GB of on board memory, but she can add an SD card to extend it to 32 GB of space. This is especially handy in cases where she needs more data space for longer recording ability.
The recording quality is stunningly clear and makes it perfect for voice or music. With one of these you have a recording studio in your pocket.
I notice that it picks up even background sound. It records in Hi-Fi Sound and its recording rate is 1536 kbps of recording resolution.
MP3 Player with Built-in Speaker
The AGPtEK Digital Voice recorder is not just any recorder! It's features an MP3 Player and has a speaker built into the main device.  It comes with personal ear bud for her listening pleasure.
She can store white noise and her favorite music playlist or any of the other popular music extensions on the digital recorder, as it supports all the popular ones like MP3/WMA/WAV/APE/FLAC.
FM radio and eBook capability built in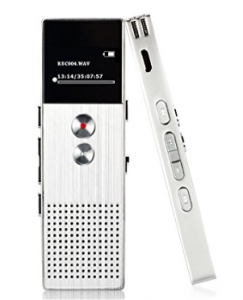 The FM radio also has a nice function for auto-tuning, therefore she can have the AGPtEK Digital Voice recorder do an auto scan of local or nearby FM radio stations in our area and auto catalog them for her listening pleasure. The recorder even has eBook capabilities, so my daughter will be able to add ebooks to the recorder.
I will of course need to train my daughter on how to use the aid, but overall this was just the external teaching aid she needed.
Available for purchase via Amazon.ca.