I See Me brings Farm to School to bookshelf to imaginative play
Seeing an old metal lunch box takes me back. Do you remember the lunch box you had as a child? If memory serves me

correctly, I had a Holly Hobby lunch box when I was young. I was elated to find out a couple years back that "I See Me" carries personalized lunch boxes.
Since then, we have featured two of the personalized lunch boxes on this very blog. Perfect for back-to-school "I See Me personalized lunchboxes" are made with lead free tin and embellished with printed, laminated high-tack adhesive on all sides.
My daughter will be staring preschool on Aug 17th. Because, lunch is provided by my daughter's preschool I don't need to pack her a lunch. Nonetheless, that did not stop me from ordering her a personalized lunch box from "I See Me."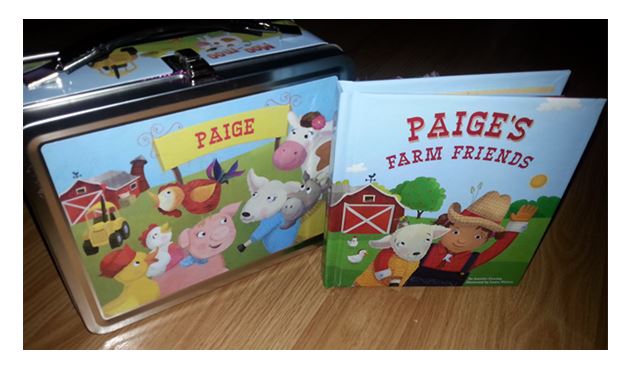 Lunch Boxes can be used for more than just lunches!
Farm toys are very popular among most children. My daughter can spend hours playing with her Little People Animal Friends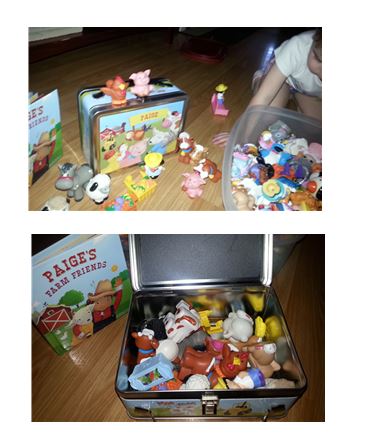 from Fisher Price. I recall having a Fisher Price school house when I was young. Little people were housed in a tin lunch box with a handle, which was perfect for take- a-long play.
I thought to myself, why not make my own – take a long farm lunch box with the "My Farm Friends Personalized Lunch Box" from "I See Me."
Adorably illustrated by artist Laura Watson, and personalized with my daughter's name- the lunch box conveniently stores my daughter's "Little People", making it easy to take along on trips. "I See Me," also gives parents the option to add their child's photo to the lunchbox, making it even more personal.
Pair it with the "My Farm Friends Personalized Book" from "I See Me" and you have some context-rich literacy opportunities- to help get your child ready for preschool!
We used the "Little People Animal Friends" to retell the personalized story of Farm Friends written by award-winning children's author Jennifer Dewing.
My Farm Friends is a charming personalized board book in which young readers become the central character (farmer) on their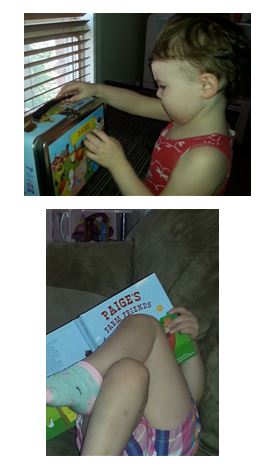 own farm. In addition to adding your child's name to the book, you can also add their photo to the cover and a printed devotion in the beginning of the storybook to make it extra unique.
Bringing the story to life through imaginative play was a wonderful opportunity to talk about farms, names and types of animals found on a farm and what fruit and vegetables also grown on a farm. Of course we had to sing about the little girl who had a farm too!
There was a girl who had a farm and Paige was her name-o. P-a-i-g-e, P-a-i-g-e, P-a-i-g-e and Paige was her name-o. Singing about a farm to the tune of Bingo is a wonderful way to teach my daughter how to spell her name, in addition the personalized children's book from "I See Me" is a wonderful teaching tool to help my daughter learn to recognize letters and spell her name, as her name can be found throughout the beautifully illustrated story.
That's not all! The inside of the lunch box is coated in chalkboard paint, where you can write your child's name- to help them recognize it and later practice writing it.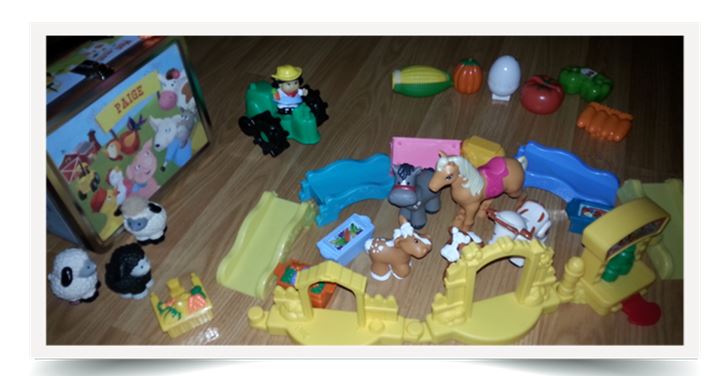 We had a wonderful afternoon engaging in fun farm play.
This week, we are going to my aunt and uncle's for a barbeque and I plan to bring my daughter's newly made "My Farm Friends play-go-farm" along for some outdoor sensory fun.
Aside from the "My Farm Pals" personalized storybook and lunch box, ISeeMe.com also offers collaborating My Farm Friends personalized gifts including a sticker sheet, placemat, puzzle and coloring book.
Shop now and save $12.00 on any personalized lunch box purchased from Iseeme.com.