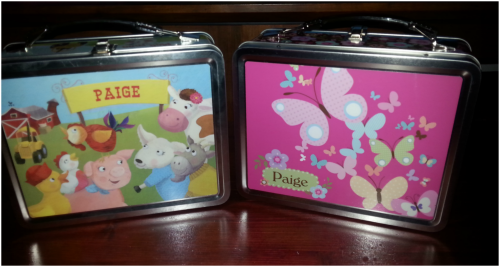 Mom, forget the boring brown bag lunch. Make lunch time fun this year with a personalized lunch box from I See Me! What child wouldn't love a lunch box with his or her name on it? Choose one of the many designs ranging from ballerinas, sports theme, floral, faeries, vehicles and more.
Each lunch box is crafted of lead-free tin with a cute design on both the front and back. There's a unique chalkboard lining where parents can leave love notes for little ones or a reminder about after-school activities on the inside of the lunch box.
The lunch boxes are virtually indestructible, making them perfect for kids. If something leaks, there's no stain. Simply wipe clean with dish-soap and the tin lunch box is ready to go.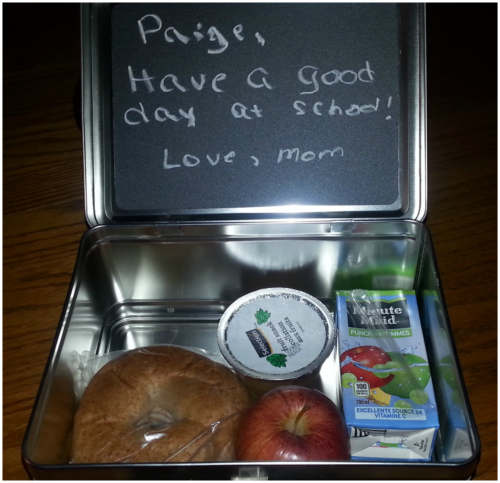 Don't let the term "lunch box" fool you. I See Me personalized lunch boxes are also great for storing toys and other treasures! To explain further, please see my review  from last year, "Personalized Lunch Boxes for pretend play."  I turned a personalized lunch box into a "My Farm Friends play-go-farm" for my daughter. My daughter loves having a place to store her little toys and the lunchbox also stores easily on a shelf. This makes clean up a breeze.
Shop now and save $12 on any lunch box. In closing, I can't say enough good things about I See Me! You'll just have to try them out for yourself! Thanks to the generous folks at I See Me, you have an opportunity to do just that. One lucky Today's Woman reader will win a personalized lunch box. This giveaway is open to US & Canadian residents 18 years and older. Good luck everyone!