Father's day is quickly approaching. Instead of another boring tie, why not get him a desk organizer. It is a simple and yet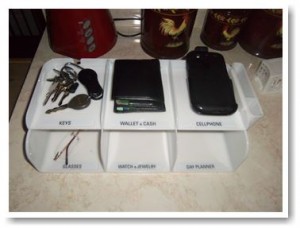 practical gift that he can use every day.
Did you know that, according to an online survey, the average person misplaces up to nine items a day, and spend an average of 15 minutes each day searching for those misplaced items?
Measuring, 14" long x 7.5" deep x 5" high, the GRAB N' GO is a new must have organizer. Designed to be suited for use in any room at home or office, the GRAB N' GO features six labelled compartments for your day planner, glasses, wallet, keys and cell phone. It also features a side candy to hold sticky notes, and pens. Available in white or smoke, the GRAB N' GO would make a handy gift for dad this father's day.
I love the simple clean design of the GRAB N' GO. My husband is always misplacing his wallet, or glasses. Now that all his essentials have a home, he is less likely to forget things when he leaves the house.
A nightstand organizer, such as the Grab N' Go  is also a very helpful gift for anyone with early stages of  dementia or for those living with brain injury.