Forts have always provided countless hours of fun. With our world turned upside down due to Covid 19, a fort provides an extra layer of comfort to a child. Not to mention a fort engages children in unplugged play and hands-on activities. It is the perfect Steam engineering activity that improves fine motor skills, social skills, problem-solving skills, and hand-eye coordination. While I believe old-fashioned homemade forts are the best,  Make-A-Fort Build Kit takes a child's fort-building skills to a whole new level. The kit comes with 18 sturdy cardboard panels, 10 braces, 80 connectors and a handy carrying case.
Engineering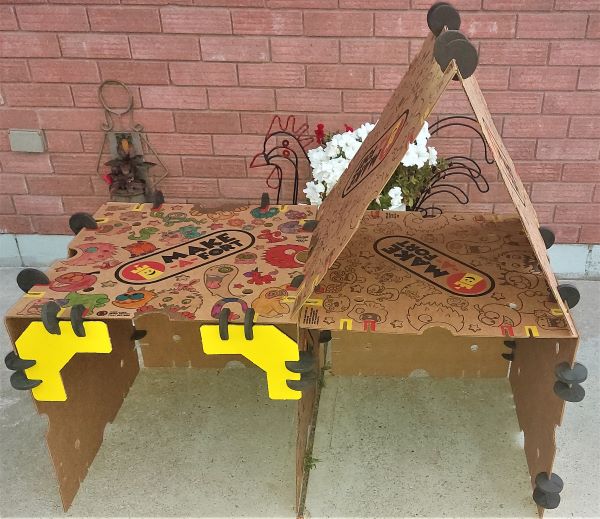 Make-A-Fort building kits allow solo or sibling play to create incredible structures with or without a parent's help. Each adventure with Make-A-Fort raises the critical thinking, social, and leadership skills of a child. As mini-engineers, children will be able to come up with creative ways to design their fort. Your child can build houses, castles, mazes, and tunnels; there are endless possibilities of what they can build with this engaging kit!
How to make a fort for kids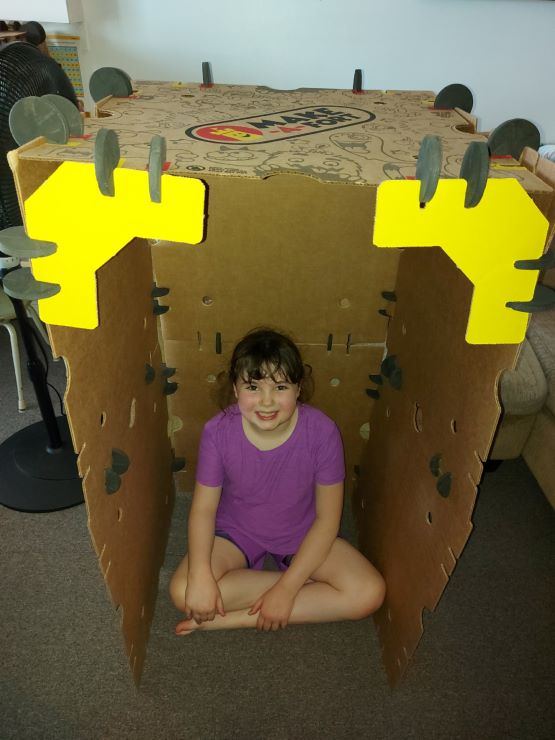 First you will need to pop out the connectors and braces before building. The kit includes a detailed colored instruction booklet to get kids started. A fort is really easy to assemble. Each panel has groves cut out where the connectors and braces fit into. Simply insert a connector into the red slot (for more sturdy connection) or into the yellow slot and connect a second panel. Then go from there. The braces insert in the same way the connectors do. Each brace has cut out slots. Each panel is over six times stronger than typical shipping box cardboard, therefore it is sure to hold up to your child's rough play.
Arts
Children can truly make the fort their own as each cardboard panel has designs on it that can be colored providing hours of relaxation through creative expression. The other side of the panel is a blank canvas allowing children to come up with something unique that fits their own personal style. Coloring in the designs also provides a perfect time to bond with your child through coloring, so pull out those Crayola crayons.
Math
Make-A-Fort building kits implements math into play as your child will need to figure out how many panels, connectors and braces they will need when building their fort.
Our Thoughts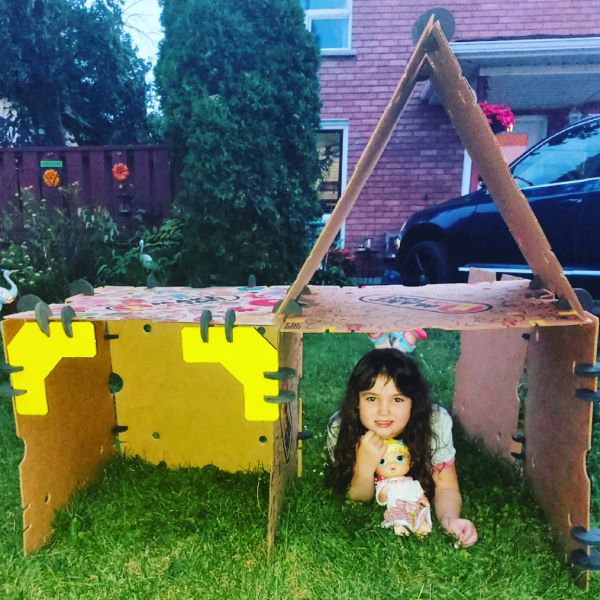 My daughter is eight and had no trouble assembling the fort on her own. She refers to the kit as a big Lego set. One kit was actually a good starting point for us. From only one kit, there were a few different configurations she could make the fort into.If you want to make larger structures I do suggest investing in two kits, but even one kit provided a lot of options. We actually divided our one kit between our house and our neighbors house so that our neighbors grandsons could make a fort.
The first thing my daughter made was a dog house for our dog with just a few pieces of the kit. She also made a mini cubicle with some pieces for remote learning, which I thought was pretty creative. There is so much potential for many fun and creative games to be played with Make-A-Fort.
When play time was over my daughter took the fort apart and packed it back into the box to store until the next time she uses it.
Be sure to take a look at all of the fort kits as well as the different configurations on the company's website. Happy building!
About Make-A-Fort

Childhood pleasures include building and playing inside really big forts, castles, mazes, and tunnels! Just like their ever-expanding line of kits, Fall 2021 is the season this toymaker launches a new website with crisp designs, new products, testimonials, multiple languages, and multiple currencies. See what's coming and make pre-orders for U.S., Canada and European shipments at https://www.makeafort.fun. Follow them on Facebook, Pinterest, Instagram and YouTube.