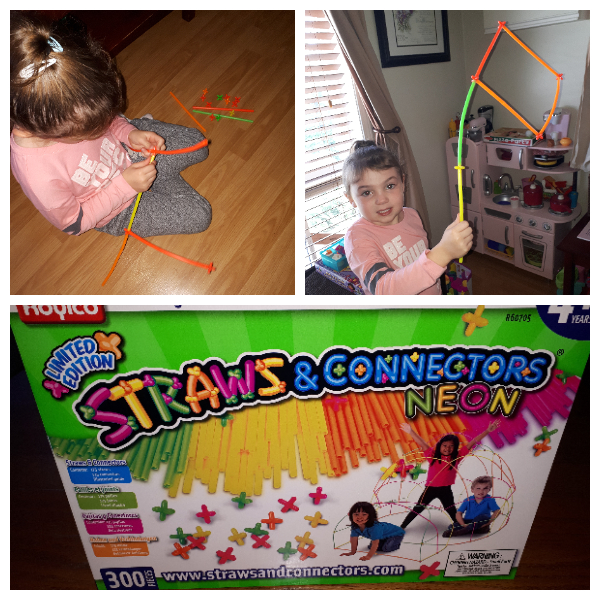 This next must have toy is a great indoor activity that will keep your children busy for hours! It is perfect for the chilly days of winter when it is too cold to place outdoors. Recommended for ages 4 and up, Roylco Straws and Connectors is a economical building set that will have children building houses, forts and more.
They are a very simple concept really. The Straws and Connectors are exactly what their name implies: straws and connectors.
The straws are bendable, flexible, and you can cut them to any length. The connectors can join six straws together at 90º angles, so there is no limit to design possibilities.
In the instruction booklet there were many examples of endless possibilities for creative building, and children are free to use their imagination.
Roylco Straws and Connectors easily come apart and can be stored away, therefore, they don't take up much room when not in use.
The design you think would be rather simple to use. You simply attach a connector to the end of the straw, and you are on your way to building yourself a huge bird cage.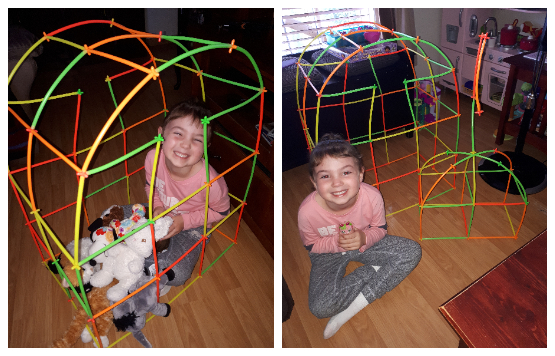 That is not quite the experience that we had. Upon first use we found the straws and connectors did not fit together well when making circles. The connections kept coming apart every time we attempted to build something.
After several attempts the straws loosened up and became easier to snap together. Therefore, I recommend bending the straws before use when making circles.
I did bring this to the company's attention and they will be correcting the issue and making the material easier to work with within the next few weeks.
My daughter had a great time doing small, simple works of art, while my husband used the Straws and Connectors to make her a large bird cage. As building toys and construction sets go, I think Roylco Straws and Connectors is pretty brilliant. We have the 300 piece set.
Royclo Straws and Connectors would make a great Christmas gift that would last long after the holidays are over.
How about your family? What do your kids most like to build with?
Roylco develops and manufactures over 400 products in art, science, math, special needs, physical education, language arts, foreign language, multicultural, and social studies that meet the National Standards for education. With a focus on educational arts and crafts materials, Roylco's creative products are designed to make learning fun! See more at https://roylco.com/
Roylco Straws & Connectors Set Giveaway
Now is the time for a giveaway. Winner will receive one Roylco Neon Straws & Connectors Set Building Kit which will be shipped to them by the company. Giveaway is open to Canadian residents 18 years and over. One person per household may enter.