You can actually turn just about any photo into a canvas print. You don't have to just choose formal portraits for a gallery wrapped canvas.
Throughout the years, one thing I have held onto is a stack of artwork from my children. They have sat buried away among boxes in the top of cupboards, and in folders in my desk drawer. Now with Canvas Champ, I can convert those saved pieces of artwork or drawings into a canvas print.
If you have budding artists in your house, why not decorate their bedroom walls with their own art? Simply scan or take a photo of their artwork and upload it to Canvas Champ to get started. You can also snap a picture of your favorite pieces of art, then make a collage in Picture Collage Maker Pro, or Photoshop and have the collage printed onto canvas.
For a newborn, painting your baby's hands and feet with non-toxic craft paint and then stamping them onto a piece of white paper has become a popular art activity. Why not take a high-resolution scan or photograph of the painting and turn that into a canvas?
Are you a fan of inspirational quotes? Turn them into DIY quote canvas wall art with the help of Canvas Champ and your favorite graphic software program.
The ordering process is really easy. Simply upload the image, pick your size, choose your hardware options and style, put in your address, and payment method and your print is ready to order.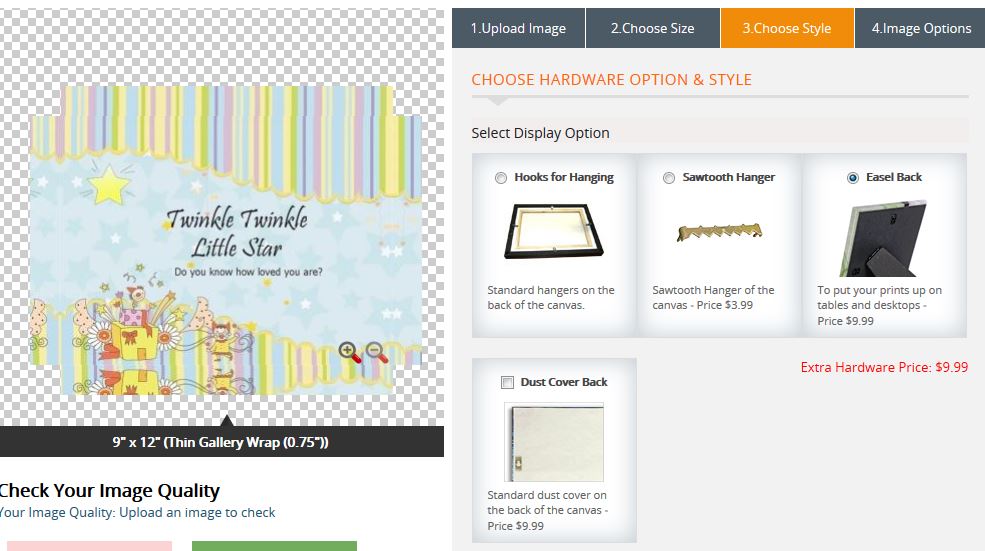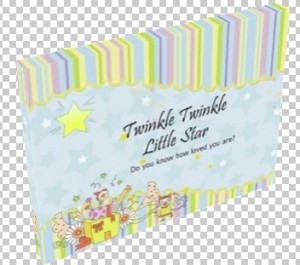 The image quality indicator let's me know if the image I have loaded has the right resolution for art. The online preview screen makes it super easy for me to avoid mistakes by seeing how my artwork will look with each of the various wrap options. I was also able to see what it would like on a wall.
When my canvas arrived it was an exact replica of the original picture that I had made using Picture Collage Maker Pro and Jasc Software. My order arrived quicker than I had anticipated and Canvas Champ took extra care wrapping it to insure that there would be no damage in shipping.
Canvas Champ prints have an extra piece of wood behind the print making the entire frame more sturdy and it also helps keep the canvas pulled tighter to prevent tearing. The small bracket in the back is made of quality metal and is securely fastened to the back of the frame. The print is securely stapled to the frame, giving no slack to your canvas print.  The company also includes a screw for hanging, so there is no guessing on what size you  will need to hang your print. When ordering your print you can also request a standard dust cover on the back of the canvas, or  an easel back for placing your print on a desk.
If you are unsure what size canvas will work best in your space, you can send a photo of the intended wall and Canvas Champ will help you decide. Canvas Champ will also touch up your photos to ensure they look best on canvas, which is a good service to have if you are turning old photos or children's artwork into canvas wall hangings.
You can also upload any photo and turn it into a beautiful Instagram canvas print.
Not only was I pleased with the quality of the work from "Canvas Champ" but their customer service was very helpful. The Crew even made our canvas a custom size to keep the balance of the photo, which I worried might be too small to print.
Canvas Champ is also more affordable then other Companies I have ordered from. A 12″x8″ print from Canvas Champ is only $21.59, compared to $40.00.
If you want to convert your children's memorable art work, or any photo into enchanting pieces of art, then I recommend a visit to Canvas Champ (canvaschamp.ca) today.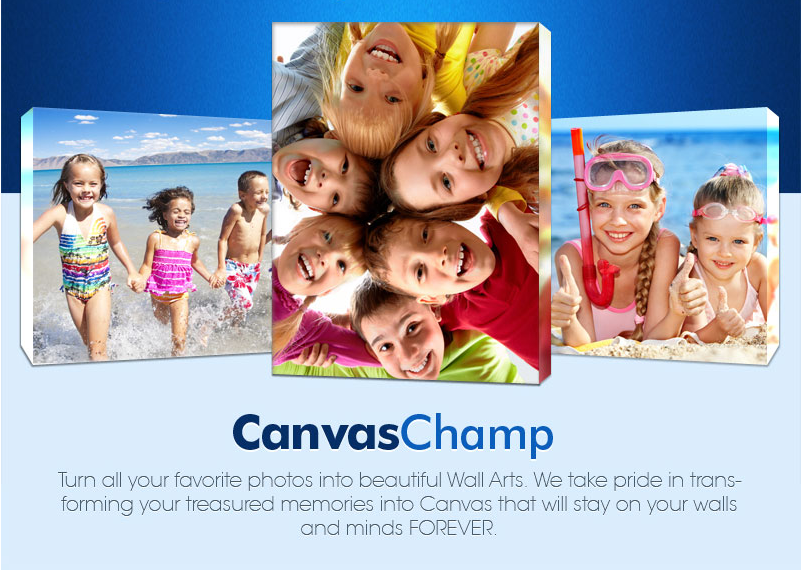 Do you have a child's artwork (or photo) you'd like to put on a canvas?