It was the golden age of arcade games. Growing up as a teen in the late 80s, I was among the countless teens obsessed with arcade games. I spent hours at the arcade attempting to get high score on Pac Man, Miss Pac Man, Frogger and Space invaders, just a few of my favorites. I recall the countless quarters I put into those games. Now I get to bring that fun into my home thanks to Super Impulse and their pocket-sized  tiny arcade games which are miniature versions of the classics we all know and love. And even better,  the Tiny Arcade line from Super Impulse takes no quarters. That is most likely a good thing as you will need to save your quarters for the endless supply of coffee you are going to need playing boardwalk arcade and tiny arcade games.
The tiny arcade games are small enough they fit in the palm of your hand.  Each game features electronic game play on high resolution, high definition LCD screens. The games also include digital score screens, game sounds, multi-level play, and more!
And the best part? You can take the entire arcade experience with you, wherever you go.  For $20 they make great stocking stuffers.
Tiny Arcade Hello Kitty Pacman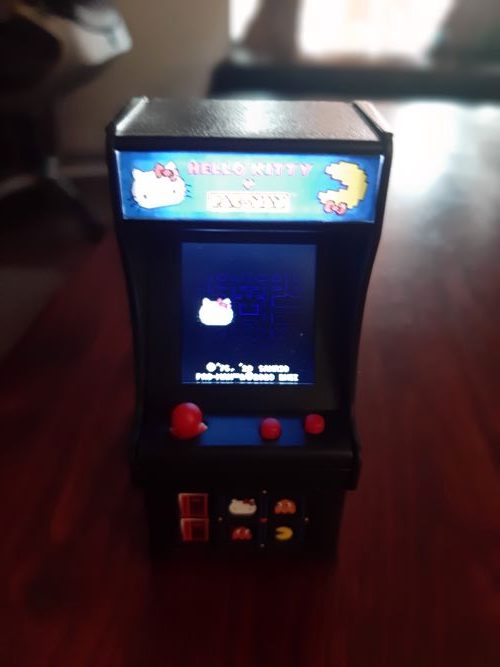 Part of the "World's Smallest" Tiny Arcade line by Super Impulse comes Tiny Arcade Hello Kitty Pac-Man. Released in Sept of this year the electronic game cabinet measures at 1.75" x 1.75" x 3.5" with a screen size of 2.5". It comes with three AAA batteries, a keychain and instructions. Tiny Arcade Hello Kitty Pac-Man features a full color, hi-resolution backlit screen with sound in addition to a functional joystick and two buttons. I will admit that the small screen is hard to see with my old eyes. Nonetheless the game is still lots of fun and I love that I can take it with me on the go.
Boardwalk Arcade Whac-a-mole
If you are a child of the late 70's or 80's you may be familiar with whac-a-mole, an arcade game in which players use a mallet to hit toy moles. I have the pleasure of playing Super Impulse's incredibly small retro arcade version of whac-a-mole. That is when I can get it out of my daughter's playing hands. I think she is obsessed with the game as much as I am.  In fact she says that we need to purchase a second whac-a-mole cabinet so she doesn't have to share.
Micro Arcade Pac-Man
Super Impulse also has a new and exciting ways to play classic arcade games with Micro Arcade – arcade games the size of a credit card. New to the Super Impulse Micro Arcade collection is Frogger, Oregon Trail and my all time favorite- Ms. Pac-Man. Never before has a full-size arcade game been played in an incredible compact credit card size! Measuring only 3.25 x 2 x .375 of an inch, Micro Arcade is the ultimate travel game and easily fits in your pocket! Each game comes with a full color screen, cool sound effects, and directional control buttons, with a micro USB charger included. The Micro Arcade games play just like the iconic full-size arcade versions with digitally modified sound effects to fit into the mini flat speaker. Enjoy hours of game-play without the need for a Wi-Fi connection or data plan!
Availability: (Amazon)
My thoughts
I love how easy both games are to play, and how easy the joystick and buttons are to use. I must admit that both are addicting little games. The screen is very bright and sharp, although the resolution could be a little better. The tiny objects on such a small screen can be straining on the eyes. The sound is also quite loud with no option to turn it down.Therefore, I don't recommend playing the game at work or when you are suppose to be doing remote learning. The game does have an off button on the back.
Overall, the Boardwalk and Tiny Arcade line get a thumbs up from me. Sure, you can find mobile versions of all these games on smartphones, but you miss out on the retro feeling that these classic games from Super Impulse brings back.
Super Impulse' Tiny Arcade is now join by four new editions, namely, Teenage Ninja Turtles, Mappy, Burger Time, and Hello Kitty/PacMan Special Edition. Each Super Impulse Tiny Arcade will only cost you US$19.99.
Good things do come in small packages. Super Impulse is well know for shrinking down classic playthings. Their catalog includes everything from these tiny arcade games to the World's Smallest Elf on the Shelf, World's Smallest Mr. Potato Head and more.
Wacky Packages Minis- Super Impulse Ltd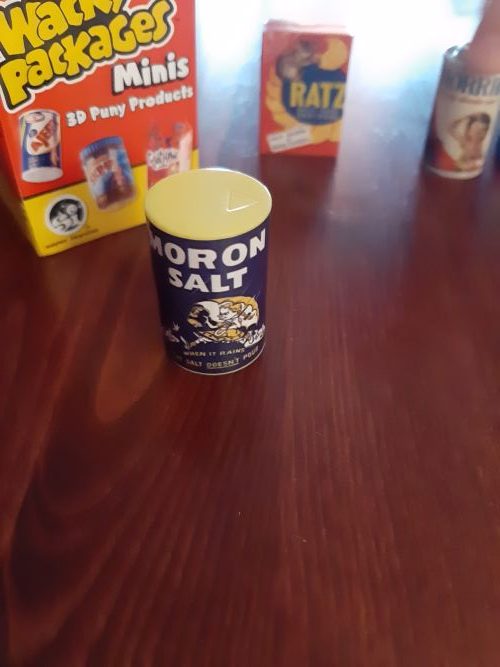 Super Impulse has brought back the beloved Wacky Packages from the 1980's! This time they're not just stickers, but miniature collectibles that come in a semi-blind box along with a sticker and collector's list. After all I am sure we all know that one person who has been using Moron Salt!
What do you think?
If you need me I'll be hiding in the bathroom playing Hello Kitty Pacman.
Website: http://superimpulse.com/
Be sure to check out my Ultimate Holiday Gift Guide, coming soon!!