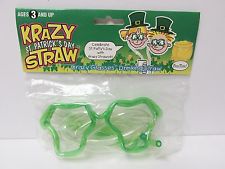 March 17th is just around the corner, and although St. Patrick's Day falls on a Tuesday this year, that does not mean you can not celebrate the day to its fullest.  We all know the rule for St. Patrick's Day: wear green, or you'll get pinched.  It appears our reviewer, Tanya will celebrate the day at work, by sporting some funky green St. Patrick's Day straw Glasses from our friends over at KrazyStraws.com. ( Thanks guys).
If you don't have a cool boss like Tanya,  you can still get into the festive spirit by incorporating a little green into your work attire.  Jewelry or a nice green infinity scarf are great ways to dress up your regular work attire for St. Patrick's Day.
I'm not sure what Tanya will be wearing to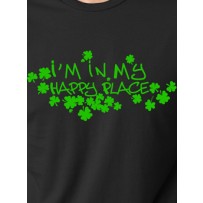 work, aside from her cool  straw glasses, but I know my daughter plans to sport her " happy place- Saint Patrick Day t-shirt" with a pair of jeans, and some green socks. It is the most subtle ways to show her Irish spirit for St. Patrick's Day.
Saintpatricksdayshirts.com has a massive selection of Saint Patrick's Day Shirts for both men and women.  And to make a simple St Patricks Day shirt even more festive,  you can accessorize with items like a shamrock necklace,  green scarf, some green jewelry and a St. Patrick's Day hat. You could even go so far as to add green temporary dye to your hair. This is definitely something I can see Tanya doing.
For those who are feeling particularly festive,  make a leprechaun costume. Don't forget the white stockings, green top hat and red beard.
Whatever you choose to wear, may you enjoy the luck of the Irish this upcoming St. Patrick's Day, have fun, and be safe!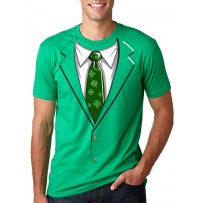 So, how will you wear green this St.Patrick's Day? Will you go for a Saint Patrick's Day funny tee or will you go all out and dress in green from head to toe?