Dr. Andrew Weil, M.D., a recognized expert in alternative and complementary medicine and Phillip Vasyli, an Australian pediatrist and the founder of Orthaheel technology, have created a line of footwear that has merged fashion with function. Vionic footwear have a patented biomechanical footbed. Each pair of shoes has a substantial arch support and a deep heel cup. These two features work together to align the body properly so that your feet, legs, and back all work together.
Orthaheel shoes are designed to keep your feet in a healthy position and to reduce pronation, by lifting the feet and realigning  the feet. After years of walking on hard surfaces sometime the arches in our feet fall and our feet begin to pronate, or roll inward.
Research has shown the success of Vionic's  Orthaheel Technology  in reducing over-pronation, which can help relieve associated common aches and pains, such as heel pain (plantar fasciitis), knee pain, and lower back pain. Wearers who have Plantar Fasciitis have reported an improvement in their symptoms while wearing Vionic footwear with Orthaheel Technology.
Vionic is one of the first footwear companies to offer podiatrist-designed with the ultimate foot support built seamlessly into contemporary and modern classics, constructed from premium materials in essential silhouettes.
The new Vionic Nadelle Chelsea boot for women was recently featured in O, The Oprah Magazine (October 2015). With a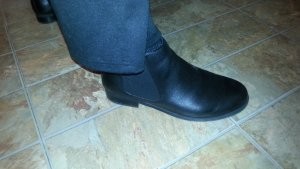 large gore panel on the outside and zip entry on the inside for easy-on, easy-off, it's packed full of comfort features, including Orthaheel footbed with built-in arch support.  The boots feature a rubber outsole with patterned tread for improved traction and the min heal adds stylish flare to the boots.
I am officially loving my Vionic Nadelle Chelsea boots that have both style as well as function and comfort.  These are my go-to boots right now for all my Christmas functions. I love that I can wear them with jeans, and dress pants.  They also can easily be warn with skirts and dresses.
After a few days of walking in my Nadelle Chelsea boots,  I was already feeling the difference. The shoes offer a great deal of support. The boots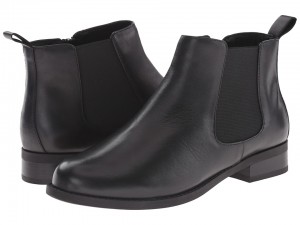 do tend to fit large, so I recommend purchasing a size smaller. I have to wear thick socks when wearing them as they do tend to slide a bit.
Look for the many styles of Vionic with Orthaheel Technology shoes online at yengo.ca. With so many beautiful styles to choose from, I bet you will have trouble choosing just one pair!
About Yengo
Yengo know shoes inside out and they know that the right shoes should be comfortable, stylish and make you feel confident. These …are the types of shoes you will find on Yengo. Their desire was to create a business that reflected a long history in Toronto and to give customers a superior online shopping experience.