Turn up the laughter with a fun game for the kids this holiday season. When it comes to games for our kids, Goliath continues to dominate the world of children games with the release of the all new Rattlesnake Jake game. This suspense filled game is sure to have you sitting on the edge of your chair.
The game is suitable for two or more players age four and up. You will want to insure you have 3 AAA batteries on hand before playing. Once you assemble Jake and insert his batteries, then you are ready to play!
Rattlesnake Jake Game Contents:
1 Rattlesnake Jake, 1 Cowboy Hat, 1 Double-Sided Fate Coin, 16 Gold Nuggets, Complete Instructions
How to Play
Rattlesnake Jake
Simply turn the power switch under the snake to "On," and place all the gold nuggets in the center of Rattlesnake Jake's ring. Gently push in his head until it locks into the starting position, place the cowboy hat on his head.
The youngest player goes first. Play proceeds in a clockwise direction. The player must look Rattlesnake Jake right in the eyes as they steal a gold nugget and place it in front of them. On each turn, the player will be allowed to take their first gold nugget for free.
After grabbing one gold nugget, you may choose to flip the Fate Coin for a chance to grab a second one. If the Fate Coin lands on the crossed nugget side, your turn ends immediately, and you must give one nugget back to Rattlesnake Jake.
We didn't bother using the fate coin as we prefer to play the game without it. Be sure to push in the head to restart Rattlesnake Jake before the next player's turn.
If Rattlesnake Jake jumps forward on your turn, you must return half of your nuggets to him, and your turn is over. The player with the most gold when the last nugget has been taken wins the game.
Final Thoughts on Rattlesnake Jake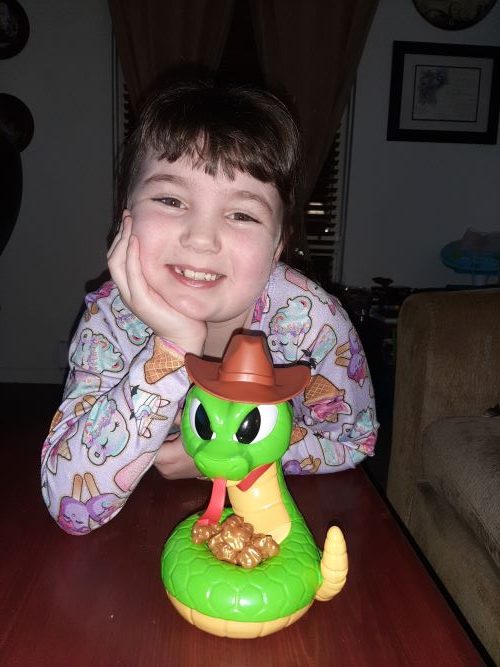 We have enjoyed playing the game a few times and of course the winner happens to always be Miss P. I guess Jake knows that mom here is an easy target. The anticipation certainly had us both on the edge of our seats wondering when Jake would strike. Overall, Rattle Snake is a lot of fun and one that will be getting lots of play in our home on game night.
About Goliath
Goliath was founded in 1980 by Adi Golad and he cofounded Goliath's USA division with David Norman in 2008. Goliath is one of the few remaining family-owned global toy and game companies. Goliath is now a global manufacturer and distributor of a broad range of products. Examples include Wahu®, Rocket Fishing Rod®, Rummikub®, Rubik's Cube®, Tri-Ominos®, Sequence®, Pop the Pig®, Doggie Doo™, Gator Golf®, Let's Go Fishin® and Phlat Ball®. The company has continued to see substantial growth with the acquisitions of Pressman Toy® and JAX® in the US, Crown & Andrews® and Britz 'n Pieces/Wahu in Australia, Modelco® in France, Elephanta® in New Zealand, and Vivid® in the UK. Goliath is a market leader in TV-promoted games and is active in many other toy categories, such as puzzles, arts & crafts, outdoor, activity, and novelties. Goliath products now sell in more than 75 countries worldwide and the company has offices in the Netherlands, Belgium, France, Spain, Portugal, Germany, Poland, Hong Kong, Italy, the United Kingdom, Australia, New Zealand, the USA and Canada. For more information, please visit http://www.goliathgames.com.