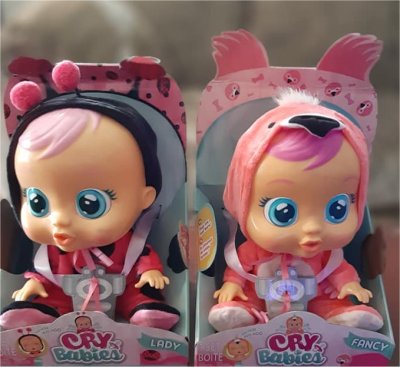 Cry Babies magic tears dolls are one of the newest interactive dolls on the market and are a top toy for the 2019 holiday season. There are 16 dolls in total to collect. These lovable dolls make crying sounds and even cry real tears. Each doll comes in a box that resembles a car seat.
When you take away your cry babies' dummy she begins to cry. The crying sound effect is very realistic! I was surprised as it really does sound like a crying babywas. The crying starts out softly and then it really builds up, much like a real baby. You can stop your baby from crying by giving her a cuddle or putting her dummy back firmly in her mouth. The crying is rather loud, so you'll be glad to know there is an 'off' switch for when her crying gets a little bit too much.
The compartment for putting in water to enable the baby to cry is under the hood of your doll's onesie. Make sure the Cry Baby doll is off and the pacifier is in her mouth before pouring the water in. Also, use bottled water to fill her and not tap water. Fill the water compartment about ¾ full. If the doll isn't crying, press the button below the water compartment a few times.
For more fun, their arms and legs are movable. They each come with their own cute changeable animal onesie and an attached pacifier.
Cry Babies Magic Tears dolls require 2 AAA batteries to operate. She does come with batteries already installed, but we do suggest changing them as they are for in-store use only.
Cry Babies Magic Tears – Blind Capsule
Cry Babies Magic Tears are smaller versions of the larger dolls. Each soft-bodied, plastic doll is dressed as a different animal character and comes blind-packed in its own Cry Babies Home. There are 12 characters to collect, in addition to one rare doll, and each includes a total of eight accessories in each pack. In addition, kids may discover rare accessories, such as the golden pacifier or bow!
Just like the larger dolls these smaller dolls cry real tears. Use the included baby bottle to feed water to your crybaby Magic Tears doll, then squeeze their belly and watch them cry. Cry Babies Magic Tears – Blind Capsules will appeal to children's love of mystery toys.
We unboxed Lady the Ladybug who is super cute. My daughter has already added both the larger and smaller dolls to her wish list.
IMC Toys USA launches Cry Babies animated series
IMC Toys USA has launched its own animated series based on its popular toy IP Cry Babies and Cry Babies Magic Tears. There are more than 35 episodes on the Cry Babies YouTube channel. The series is for ages 3 to 6 years and aims to install positive values in children in a fun and engaging way.

Website: https://imctoys.com