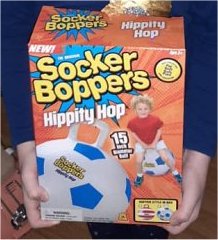 Bounce into the Christmas season with Big Time Toys Socker Bopper Hopper Balls. Ideal for indoor and outdoor use, available in various styles little ones will be bouncing in style. These retro toys that you may recall from your childhood give little ones plenty of benefits beyond mere fun.
Socker Bopper Hippity Hop balls are great for kids to expend some energy indoors during the cold winter months when it is too cold to play outside. They are also perfect for improving balance, core strengthening, and boasting motor skills. And hopper balls are safer than a trampoline. 
What better gift to give this upcoming Christmas season than a toy that promotes kids to get active?
Inflating Big Time Toys Hopper Balls
We find Socker Bopper Hippity Hop hopper balls inflate and deflate easily. Each ball can be inflated to 15 inches with a regular hand pump. To inflate remove the hopper ball from the packaging. Lay the hopper ball out flat. Using either a bike pump or balloon pump, inflate the ball. Insert the plug into the valve opening.  Your Socker Bopper Hippity Hop hopper ball is now ready to use.
Socker Bopper Hippity Hop Hopper Balls Product Review
The handle is soft and fits in little hands nicely. Vinyl construction is strong and durable. We find that the product holds up well, is of good quality, and did not need constant refilling. Socker Bopper Hippity Hop balls do take some good balancing. After a few failed attempts at balancing herself on the ball, Miss P is now a champion bouncer, bouncing throughout the house.
They are on the smaller side, compared to the competition. Miss P is 48 inches tall, so the 15 inches was a little small for her height. Big Time Toys Hopper Balls are better suited for a child aged three to age five. Therefore I think we will be investing in a larger bouncy ball. Nonetheless, you can see in our video that she is having fun.  I couldn't find a weight limit on the ball, but I will assume up to 100 lbs. Overall, we highly recommend Socker Bopper Hippity Hop from Big Time Toys. I just wish they offered size options for older children and adults, as I secretly want a Hopper ball. I guess it is no longer a secret! Admit it. You want one too.
When considering hopper balls, it's important to think of safety first and foremost, while we highly recommend  Big Time Toys Hopper Balls supervision is still required.
Some of the Company's most successful TV-advertised brands include Super Swimmer, Socker Boppers, YoYoBall, Splash Blasters, and Moon Shoes. Check them out at https://www.bigtimetoys.com/toys.
Here is your chance to win a Hopper Ball from Big Time Toys.  Big Time Toys will choose which ball you receive as designs vary. The giveaway is open to US & Canadian followers 18 years and over.