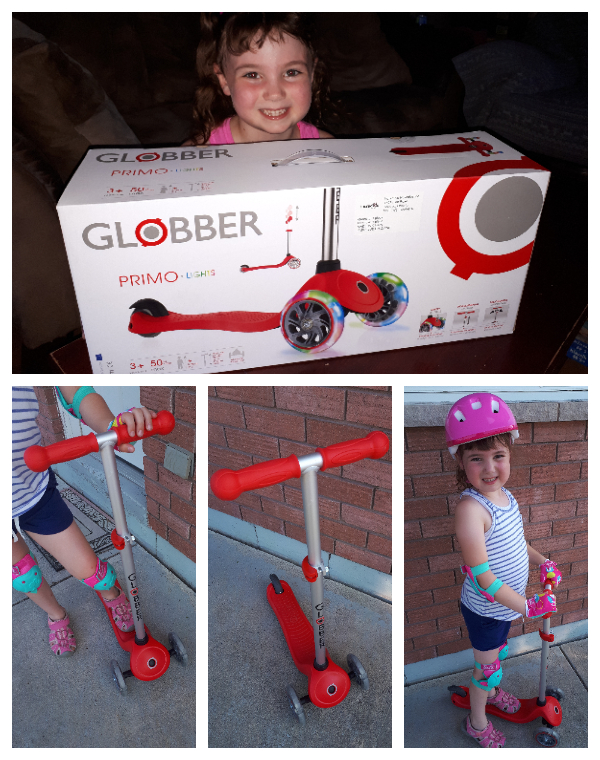 With summer here it is time to power off and get the children outside. Aside from riding their bike, a 3 wheel scooter is a fun entertaining outdoor activity for your kids.There are so many scooters out there that it can be tempting to purchase the first one you see because it features Hot Wheels or LOL Surprise.  How durable and safe is it though?
Globber is an award-winning company which offers revolutionary scooters for toddlers, teenagers and adults.
Suitable for children age 3 and up their Globber Primo Lights 3 Wheel Scooter is the perfect first scooter. It features three height levels to grow with your child. The height of the handlebars should be adjusted to fall somewhere between their hip height and waist height.
The steering lock button fixes the two front wheels steering system to only move forward & backwards for those just learning to ride. When children are confident enough the safety steering lock can be unlocked to allow your child to learn to steer.
The scooter also features fitted handlebars made with comfortable and secure grips. Durable rebound wheels make for a smooth ride.  It is also very low to the ground which gives it better stability and makes it easier to balance.
Designed to carry up to 110 lbs the Globber Primo features 3 LED flashing wheels powered by Kinetic energy! The extra long rear brake covers the entire back tire making stopping easy.
I find the scooter very lightweight, and my daughter had no problem carrying it herself.
How to Teach Your Kid to Ride a Scooter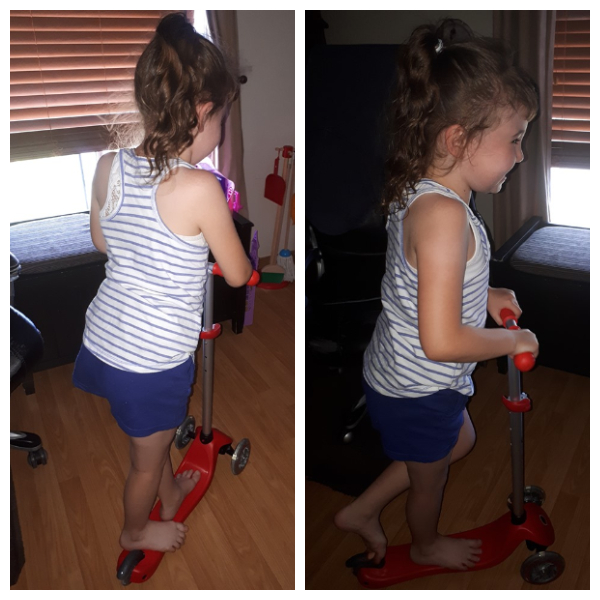 If your child has never rode a scooter before it is best to start inside. My daughter spent a good part of the day getting use to her new scooter indoors. She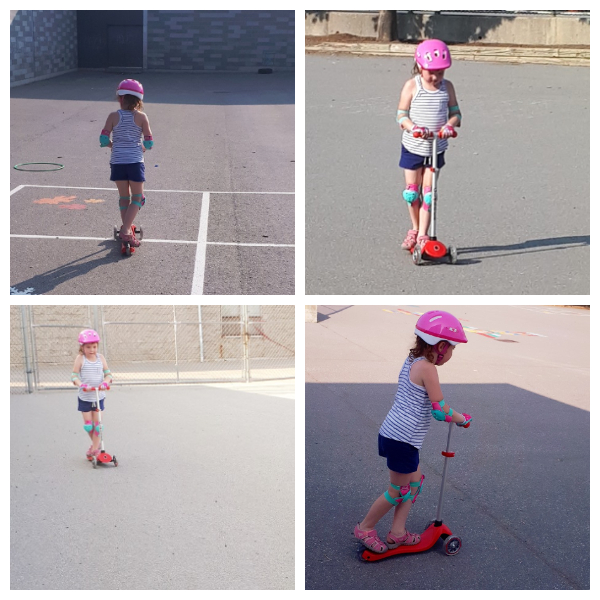 learned how to stay balance while standing with one foot, and how to put her foot down if she felt she was going to fall, as well as how to use the back break.
When your child is ready to venture outside find a long stretch or flat pavement, with as few cracks as possible. This ensures a smooth ride and is easier to learn on. We took our daughter over to her school yard so she could learn to ride. Have them place their non-dominant foot on the scooter while keeping their dominant foot on the ground.
Have them then  use their dominant foot to push forward a bit, pick up their foot and then set it back down. Once they get use to this they can then place their pushing foot on the scooter behind  the lead foot and see how long they can glide on the scooter. To stop, you simply hit the brake with your back foot. This took Miss P. some getting use to, but she eventually got it.
And as with all outdoor activities it's important to put safety first.  Make sure your child is equipped with a bicycle helmet, elbow pads, knee pads and protective gloves or wrist guards.
Final thoughts
Overall in my opinion, the Globber Primo Lights 3 Wheel Scooter is the best scooter for beginners.  It is a lightweight  scooter that is easy to learn, easy to maneuver, and tons of fun to ride! The scooter is available in multiple fun colors. Of course Miss P chose her favorite color red. You can detach the handlebars for travel or storage,  and there is also a fold-able version available.
Website: https://www.globber.com