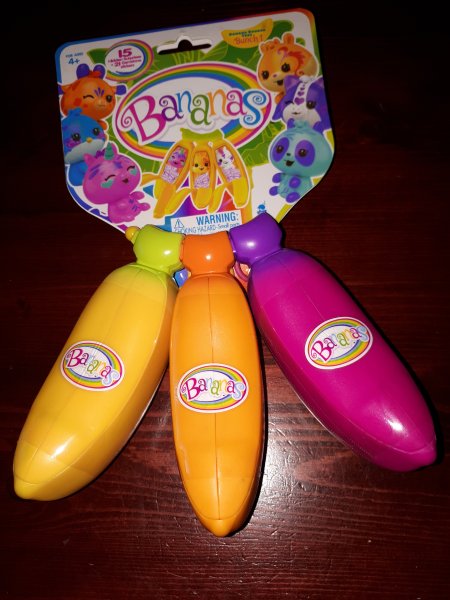 This past holiday season Amazon's 2018 Holiday Toy List showcases 100 of their top picks of toys and games for this holiday season. On the list, was many classic and simple toys, but I also found a wide selection of new toys to hit the market. One such toy is Bananas Collectible Toy. With Easter only a few days away Bananas Collectible Toy makes the perfect Easter basket filler.
For kids who love blind bag collectibles this blind bag collectible toy is a huge hit. Your child will literally go bananas for Bananas.  They even smell like real bananas! Brace yourself mom and dad the spending on this toy is going to be endless.
Each Bananas Collectible peals to reveal a cute Crushie character, plus two mini squeezable friends. Also included is gemstone stickers to decorate the Crushie or Banana. There is also a collector sheet with character stickers, and a hanging vine to display Crushie friends.
Collect all 24 Crushies from the first Bunch, with 96 in Wave 1. Like other collectible toys, there are rare,  and ultra rare collectibles within each season that aren't mass produced. You may just find a rare and ultra rare Crushie.
All the bananas are brightly coloured and there are six colours to choose from, including yellow, pink and blue! Bananas Collectibles are available to purchase as single or in a bunch of three. There are 15 pieces included with each bunch.
Kids can display their Bananas by hanging them on a backpack, or re-seal them to take on the go and trade with friends.
The Toy Collectible Sensation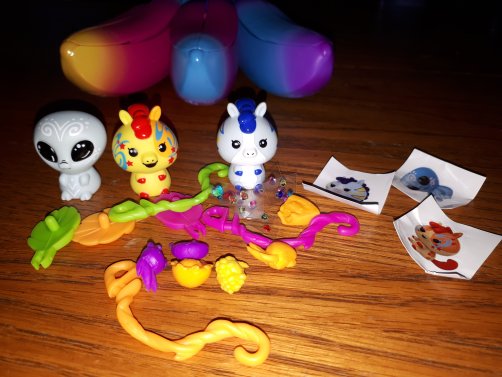 Here at the DesRochers household my six year old daughter has definitely been bitten by the blind bag bug. Her obsessive love for miniature toys like Shopkins, Hatchimals and LOL Surprise is the root cause of her money savings and the reason she voluntarily does chores with no argument. Though as a parent I must take some responsibility. The blind bag shopping is a family affair in which I often purchase her these collectible toys for reasons that I make up!
Just when I think my daughter owns every blind bag out there comes Bananas Collectible Toy.  I need you to make a donation to the Blind Bag Toy Fund now as I am predicting I am going to need some extra funds. The struggle is real.
Dear faithful and new readers, I am going to let you in on a little secret. If your child loves blind bag collectible toys as much as Miss P does then you are going to want to head to Walmart, Target  or Amazon and order a bunch for Easter. While you are there you may as well pick up a few extras for the next birthday party your child attends, for a good grade reward or to hand out as a price for uKloo Early Reader Treasure Hunt Game.
Also subscribe to our blog to see what fruits are next.
Website: https://bananas.toys/