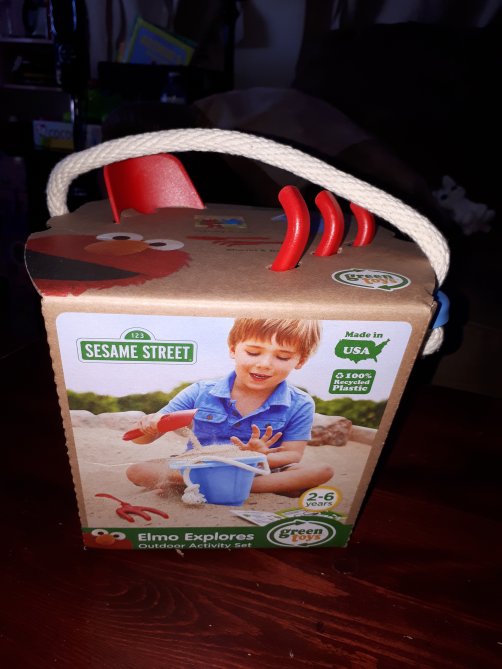 Are you looking for a fun and creative Easter basket idea that is a little more exciting than the regular basket? Why not build your child an outdoor themed Easter basked filled with simple and en expensive items. Easter is the perfect time to celebrate a new season and promote more time playing out doors. The Sesame Street Elmo Outdoor Activity Kit makes for a fun outdoor Easter basket.
This four piece set includes a bucket, rake, shovel, and the Elmo Explores Activity Guide. The bucket is built-to-last with a 100% cotton rope handle that won't snap off. It is also dishwasher safe, making it great for water play.
Within the guide Elmo shows your child ways to explore the world around them by asking simple questions.  The guide explores shapes, opposites and allows your child to have lots of outdoor fun which encourages a childhood unplugged.
The set is ideal for ages 2-6 years old, but that doesn't say that only children couldn't use the bucket too.
If your child is a fan of Elmo you could create an Elmo theme Easter basket or use the Sesame Street Elmo outdoor activity kit to create a beach theme Easter basket.
I added some sidewalk chalk, Glove A Bubbles from Zing, and ice cream bubbles from from Incredible Novelties along with some candy. Other fun items to add would be sunglasses, a new sun hat, kite and Nerf Supper Soakers.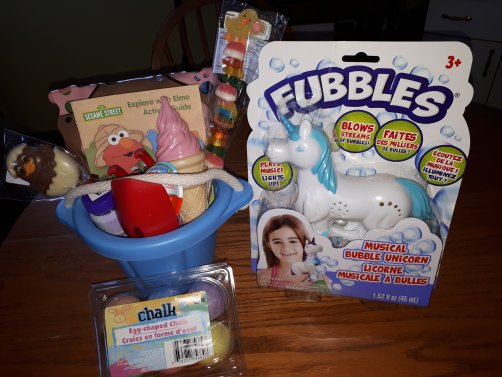 Sesame Street Elmo Outdoor Activity Kits
The Sesame Street Elmo Outdoor Activity Kit is part of four Green Toys Sesame Street outdoor activity sets. These outdoor sets encourage open play, facilitate exploration, and support Sesame Street's mission to help kids grow smarter, stronger, and kinder.
Other sets include:
Abby's Garden Planting Activity Set
Abby Cadabby Watering Can Activity Set
Elmo's Wagon
Most of  Green Toys products are made from milk jugs, but the company also uses yogurt cups and other plastic sources. All the toys are packaged in 100 percent recycled cardboard boxes with soy ink. Be sure to check out other outdoor toys at https://www.greentoys.com/.
Shop Amazon