Do you remember the classic disguise glasses, with black furry eyebrows and mustache? They were popular in the 80's. Fast forward to 2018 and the glasses are back for a new generation to enjoy. Old friends David Levich, Eric Liberman, and Dan Gershon started Sun-Staches in 2011 as a way to expand on the idea of this ever so classic toy.
The best-known Sun-Stache is the hipster staple of black Ray-Bans and a handlebar mustache combo, but if mustaches are not your thing, no need to worry. Sun-Staches come in a wide variety of styles then just the ever so popular classic disguise glasses.  The company produces glasses in seemingly every occasion.
You can put on some shades and instantly transform yourself into Minnie Mouse or perhaps a superhero is more your style. Kids from four to 100 will love sporting these fun novelty shades! And so many styles to choose from, you are sure to find just the right pair for everyone in your family!
And with Halloween just a few weeks away these fun novelty glasses make a perfect accessory for any Halloween costume.
Sun-Staches Christmas Costumes & Accessories
Fast forward to Dec when Christmas office parties begin to start. Christmas parties can get kind of dull. Bring together Santa, Rudolph and a jolly old elf for some holiday cheer. Don't take the same old boring Christmas photos this upcoming holiday season, add Sun-Staches novelty glasses to the fun.
As seen on celebrities including Beyonce and Miley Cyrus, the novelty sunglasses offer UV400 protection and can be enjoyed by all ages.
Our Thoughts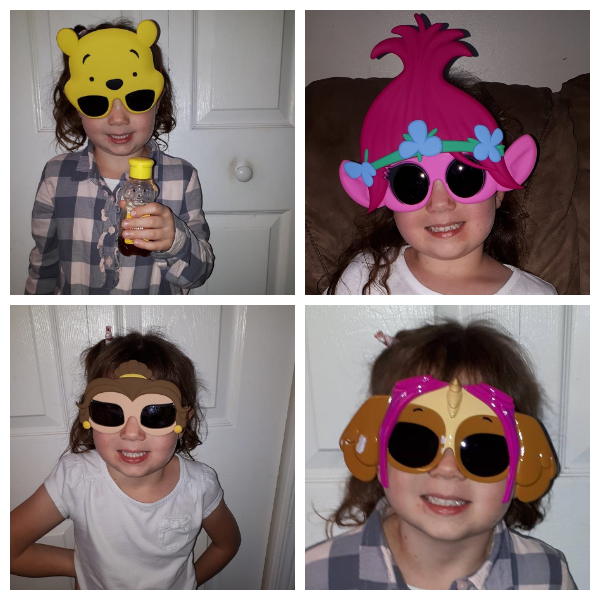 Miss P was really excited about her Skye (from Pawpatrol) novelty sunglasses. Where as my husband is looking forward to sporting his Santa Claus Sun-Staches this upcoming holiday season.
Sun-Staches are very affordable, and they seem to be quite well made. These would make great stocking fillers and their perfect for holiday parties.
If you are looking for fun sun eye-wear, you need to look no farther then Sun-Staches. They can be purchased through Amazon, Toys R Us and Party City.
Website: https://sunstaches.com
Shop Amazon