One of my most favorite childhood Christmas gifts was my Holly Hobbie playhouse. For several years it served as a play space for me and my dolls. For something made out of cardboard, it was pretty darn sturdy. Cardboard playhouses have certainly come a long way sense the 1970s. Sharingland manufacture the most comprehensive range of children's cardboard playhouses I have seen. There are currently five designs, which are: Grand Palace, Windmill Farm playhouse, Epic Castle, Space Odyssey and Ancestral Teepee.
Windmill Farm playhouse
We own the Windmill Farm playhouse, which has enough role-play accessories for multiple children to play with and definitely inspires a lot of imaginative play and storytelling.
With the Windmill Farm playhouse, my daughter can discover the wonders of caring for animals and manage her very own farm.
Not only is it the playhouse bigger, but also much sturdier than similar products on the market, it is also very detailed.
The Windmill Farm playhouse includes three pigs, two hens, two overalls, two baskets, and two farmer hats. All the Playhouses, wearables and accessories are made out of cardboard with a water resistant finish.
You can also incorporate other toys into the play as my daughter has done with her Sprouts play food. She also likes the display on the inside of the cardboard windmill farm playhouse and pretends to use the windows as a store to sell her goods.
The windmill farm playhouse was very easy to assemble. Assembly of the windmill farm takes about 20 minutes. The windmill fastens on to the farm with Velcro and assembly of the accessory are pretty straightforward.
When playtime is over the fold-able design of Sharingland playhouses break down in seconds making them super easy to store.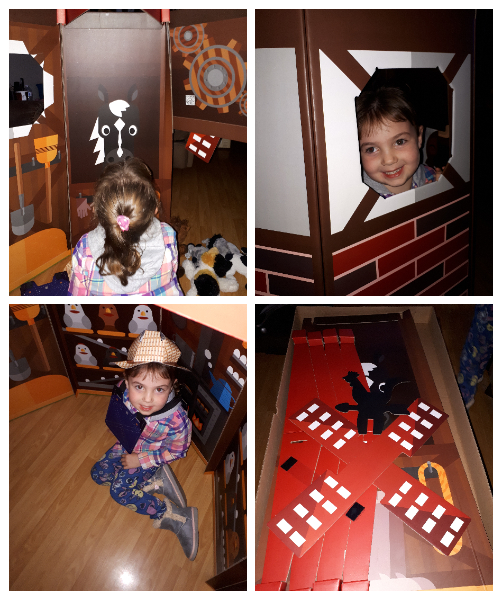 All things considered, I absolutely love the cardboard playhouse from Sharingland. Also, not only is the cardboard windmill farm playhouse absolutely adorable, it is extremely durable. I would definitely recommend this product as a gift for the child in your life.
ABOUT SHARINGLAND
Helping kids unleash their full potential by learning the value of sharing, and imagination is the motto of Sharingland, a subsidiary of "e3 – estrategia, equilibrio, evolución S.A. de C.V.", the Mexican-based cardboard products manufacturer. Over the last decade, e3 has specialized in designing, developing, manufacturing and distributing cardboard products in México and North America. Discover their playful world at www.sharingland.com.