Perfect for pre-school and elementary school aged children, WEDGiTS multi-dimensional building sets are a STEM toy consisting of blocks that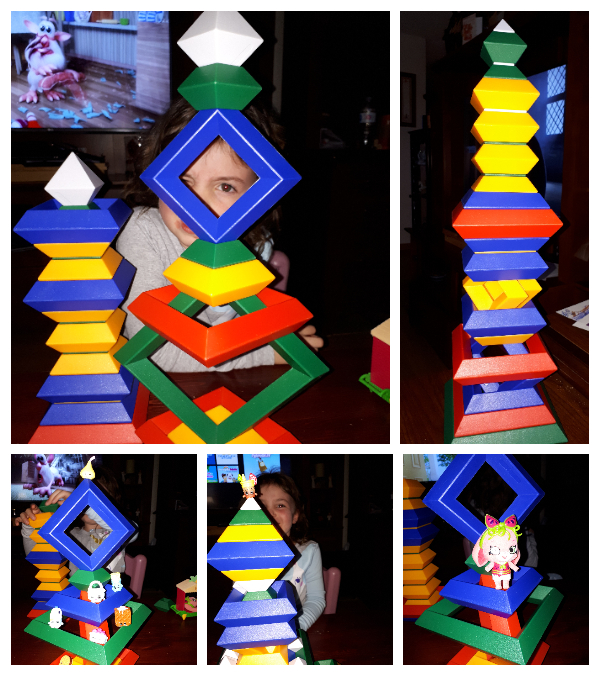 can nest, stack, link, and actually wedge together in both vertical and horizontal directions.
Winner of several awards these colorful stacking blocks help teach even children basic building and engineering skills. Some of their most impressive honors the include the 2002 Learning Magazine Teachers Choice Award; the 2001 Parents Choice Silver Honor Award and 1998 Parenting Magazine Toy of the Year Award.
A toy that inspires creativity
WEDGiTS is such an amazing toy for promoting creativity in our children. Stimulating creativity isn't their only benefit, though. WEDGits also assist children in developing fine motor skills, critical thinking skills, as well as cooperative play skills. They also help children develop spatial relations skills (understanding how things fit together).
With WEDGiTS children learn the relationship between horizontal and vertical. They can also create everything from lifelike creatures to futuristic spacecraft with mini WEDGiTS.
Occupational Tool
WEDGiTS building blocks are a great occupational tool too. It plays a role in the learning processes for special needs children as well as for adults with brain trauma.
Parents will be please to know that WEDGiTS are made from non-toxic, phthalate and BPA free plastic.
The WEDGiTS imagination 50 piece deluxe set
We own the WEDGiTS imagination 50 piece deluxe set. This set includes forty-nine pieces of building blocks using square, rhombus style components that stack into pyramids and nest completely together as one, large diamond. Additionally, this set has a dual sided 10″ x 10″ building board. The board  provides a platform for multiple kids to build upon simultaneously. The building board is identical on both sides, therefore kids can build support structures underneath and additional designs on top.
This set comes with 1 Wedgit building board (size 9.75″ x 9.75″), 16 white octahedrons, 2 jumbo white octahedrons, 12 small green rhombus, 9 medium yellow rhombus, 6 large blue rhombus, 3 giant red rhombus, 1 jumbo green rhombus, and the design booklet.
The WEDGiTS Imagination Set is compatible with all standard WEDGiTS products. Several sets of WEDGiTS building blocks are available in increasing complexity.
Our Thoughts
The WEDGiTS building block are a creative alternative to standard stacking blocks.They have already provided hours of creative challenges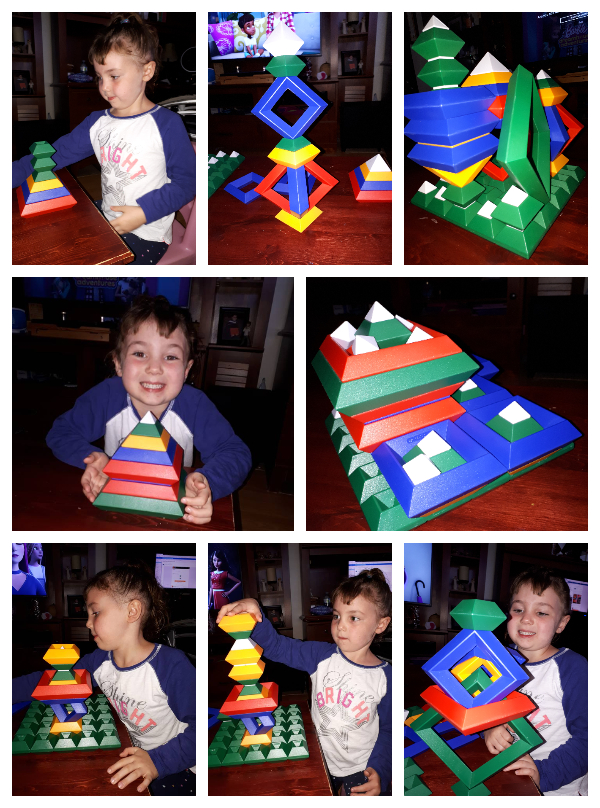 and entertaining fun in our home.
Miss P delights in every new structure she builds and I love that they are "open-ended."  For example, the WEDGiTS have been used to builda castle for her Shopkins. As a mom I appreciate that these blocks are a STEM toy that shapes her development and will grow with her.
We all have had the experience of buying a toy that our child plays with for two days and never touches again. I can guarantee you that this is a toy that will get hours of play each day. Miss P plays with the WEDGiTS daily since they arrived in the mail.
What could be more fun than WEDGiTS? It certainly makes our top toy 2018 Christmas list.
About PlaSmart Inc.
PlaSmart Inc. is a Canadian-based, global toy distributor that chooses products that are smart, simple, and fun. They seek out interesting, one-of-a-kind toys that meet 'smart and simple' philosophy and avoids toys that are difficult to understand or operate. Strong brand values and quality products, tested to the highest standards, form the foundation upon which PlaSmart was built. Established in 2003, the company continues to focus on toys and games that develop motor and dexterity skills, balance, creative and imaginative play, eye-hand coordination, problem-solving and, of course, fun.
PlaSmart's products include multiple award-winning toys and games, including the ever-popular Original PlasmaCar®, a mechanical marvel powered by the cleanest and most inexhaustible energy source, Kid Power. The company's products are available on five continents and in over fifty countries. For more information visit PlaSmart's website.