If you are looking for the perfect toddler or preschool gift may I suggest you check out these super cute Playbrites Magical Fun Faces from Jay@Play! Like Mr Potato Head, your child(ren) can add different accessories to each character, such as eyes, ears, noses, and mouths. There are six different Playbrites kits for kids to collect. All Playbrite kits are designed to be interchangeable, so there are no limits as to what can be created.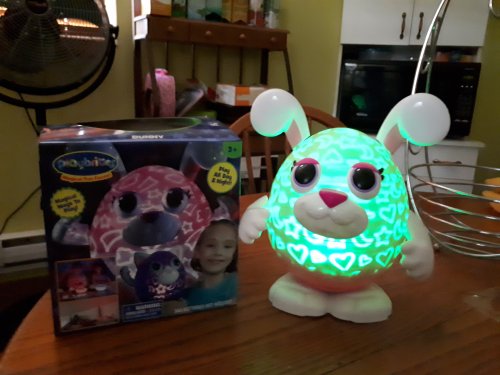 Playbrites Magical Fun Faces changes colors with just a tap. Kids can choose from Pink, Green, Orange, Blue, Red, or White. The long-lasting LED lights make Playbrites the perfect nightlight and they automatically shut off when not in use to help conserve the battery life. The light is very impressive. I find it lights up the ceiling quite nicely.
Playbrites feature a handle making them perfect for night trips to the bathroom. Playbrites Magical Fun Faces operate on 3 AA batteries (sold separate.) When done playing with PlayBrites, all 9 accessories store safely inside the unit, for easy cleanup and transportation.
Playbrites Magical Fun Faces come in six colors and characters to collect, including Bunny, Kitty, Puppy, Dino Dragon, Shark, and Unicorn.
Each animal features a different pattern to put on a unique light show. For instance, the unicorn has shooting stars and clouds
and the puppy has bones and paws. Playbrites 10″ Bunny Light Show Night Light Toy features hearts, stars and moons.
My three year old niece absolutely loves her play-bright. It is bright, but not so much that it keeps her awake. My favorite thing about Playbrites is that unlike a night light, Playbrites Magical Fun Faces double as an interactive toy. We find the pieces are large enough for her small hands to handle and I like that she can carry it to the bathroom during night trips.
Easter is less than 2 months away. Why not consider gifting your child Playbrites?
Playbrites Magical Fun Faces make a great gift for any child aged 3 and up. You can find them at Toys "R" Us and PlayBrites.com for just $19.99.