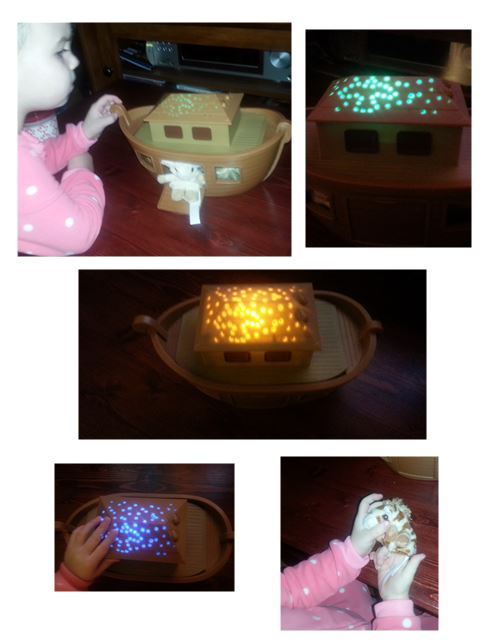 For the littlest ones on your list this year, Cloud B has some magical toys that will brighten their holidays and their bedtime routine.
Everyone knows Cloud B's classic Twilight turtle and Sleep Sheep, but Cloud B offers so much more.
Bring the classic story of Noah's Ark to life with an ark that projects a starry night projection on bedroom ceiling and walls. Running on a 45-minute timer, this adorable ark from Cloud B will shut off after the timer is up, guaranteeing complete darkness during your child's deep sleep, as recommended by pediatricians.
The ark projects in 3 soothing color options. You can choose one color, or choose to morph through all three colours. The light projector takes three AAA batteries which are included.
During the day, children can play with 4 adorable animal finger puppets-monkey, giraffe, turtle and lamb, which are included with the ark. The Cloud B ark has several window openings and a large entryway on the side that closes with a hinging door. The four finger puppets included in the Twilight Noah's Ark are cute and fun to play with.
The booklet included with the ark, has a Bedtime Story, but does not mention Noah or the Biblical origins of the ark. That was a bit disappointing, but Cloud B has left that out for parents to tell the story of Noah and the ark.
Little Golden Books has several recommendations of books that would make a great gift alongside the Cloud B ark. (randomhousekids.com). I just order my daughter Noah's Ark (Little Golden Book) by Barbara Shook Hazen and highly recommend it.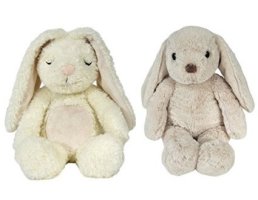 Next on my recommended gift list from Cloud B comes Bubbly Bunny and Glow Cuddles. Bubbly Bunny is my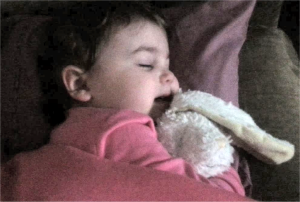 daughter's night-time companion.
Bubble has a light hidden inside her chest and with one hug, a softly glowing light is activated. There's also a gentle, calming heartbeat sound that could instantly help lull her to sleep, though we have never used it.
Cloud B Bubbly Bunny has comforted my daughter when she is sick with a cold, visited the doctor with her and scared the boogie monster's hiding in her closet away. Miss P has been snuggling up with Glow Cuddles Bunny every night since she received her as an early Easter gift last Easter. Though Bunnie is perhaps starting to see better days after, after several washes- bunny
remains my daughter's security object, helping her feel comfortable through those common childhood fears.
While every holiday with a new baby is bound to be a cherished memory worth celebrating, baby's first Christmas always seems to be a favorite. Perhaps the best Christmas gift that you can give parents of newborns is the gift of sleep. For newborns, "Cloud B Nighty Night Owl" will sense when baby is stirring even before mommy does and soothe her/him back to sleep with white noise. Choose from Mommas heartbeat, spring showers, whale song or ocean surf.
Straight out of a nursery rhyme and into your child's bedroom this royal frog will cast your child's room in a warm soft glow. Cloud B Twinkling Firefly Frog also plays a choice of two soothing sounds: rain with crickets, or lullaby melody.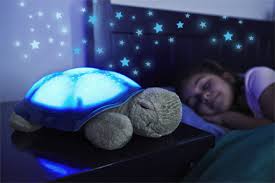 The classic Cloud B twilight turtle has received a modern upgrade. You can now connect your wireless devices to the twilight Turtle via Bluetooth. Utilizing a new free Cloud b app, parents can choose from a
pre-set library of melodies and sounds.
It is not a sleep aide; however these cozy embrace plush character chairs are bound to be your little one's favorite piece of furniture – and the softest chair in the house! With an adorable character face and ultra plush fabric, these lightweight pals are perfect for any child. They're a cuddly companion for playtime and quite time.
For the older child on your Christmas list comes "Cloud B Dreamz to Go Groovy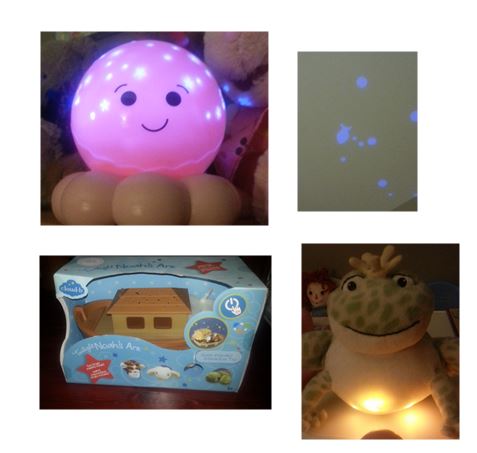 Globe," the compact solution for soothing sleep no matter where bedtime lands. Based on the original Twilight Turtle, Dreamz To Go Groovy Globe™ projects hearts and stars while illuminating in soothing colors to help ease children's fear of the dark.
My daughter owns the "Twinkle To Go Octo™ – Pink Nightlight," which is very similar to the "The Dreamz To Go Groovy Globe," accept the Octo nightlight projects stars and fish with bubbles, as opposed to flowers, hearts, and peace signs.
The glove features a 45 minute auto shut-off, which ensures complete darkness during child's deep sleep. I like the globes as opposed to other night lights on the market, as they are easy to take along on sleepovers.
Last, but not lease on our Christmas wish list must have "Stay Asleep Buddies." Cuddly, interactive friends who teach children when to sleep and when to wake! Using gentle melodies and glowing lights, children quickly learn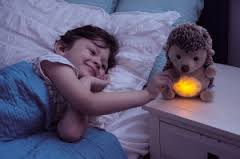 healthy sleep routines. The Stay-Asleep Buddies™ are fully programmable for a full night`s sleep or a much-needed nap. Set the timer and Stay-Asleep Buddies™ will do the rest.
About Cloud b:
Founded in 2002, the company is a pioneer in creating products and programs designed to help children sleep. Cloud b products soothe and comfort a child, which, in turn, gives peace of mind to parents – and strengthens the bond between them. The company has become a trusted name with parents worldwide with award-winning products that are developed in consultation with an Advisory Board of pediatricians and specialists. Cloud b is best known for the popular Twilight Turtle™ and Sleep Sheep™. You can check out all these toys, and more at CloudB.com.
Cloud b is exclusively distributed in Canada by Do-Gree Fashions Ltd.