I like to consider myself a responsible – defensive driver. I have 30+ years of driving under my belt without a single accident caused by my own self neglect or carelessness. Just last month though I was the victim of an accident involving another driver. The driver rear-ended me. Thankfully, aside from my wife having some whip lash, none of us were seriously injured.  I knew right then it was time to invest in a dash cam. Of course my Google search for dash cams came up with 1,000's of options and products to choose from. My wife found the "Front And Rear Dashboard Camera" via Hammer Schlemer. The fact that this dash camera came equipped with two cameras in one is a huge selling point for me!
The front and rear dashboard camera is a recorder that captures a commute from either direction using a pair of high-definition cameras in 1080p video. It's very easy to install by attaching one camera on the front windshield while a second camera fixes to the back window and captures what follows. It's very similar to what is used in the vehicles of emergency responders, for example police cruisers. Even most ambulances are now equipped with dash cams.
The Front And Rear Dashboard Camera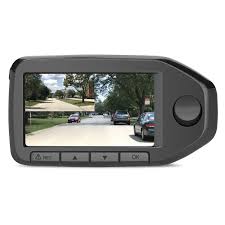 The front and Rear  Dashboard Camera from Hammacher Schlemmer can be up and operational within 15 minutes. The front camera secures with the included suction-cup bracket or 3M adhesive and captures action with a 140º wide-angle lens. The rear unit is fastened with a mounting bracket that uses 3M backing and records the reverse with a 120° wide-angle lens.
The front camera plugs into a car's DC outlet with the included USB power cord and adapter. The rear camera plugs into the dashboard unit with a mini-USB cable.
Its 2.7″ LCD viewfinder displays both feeds simultaneously or individually while the device captures footage in MP4 format, storing the video on the included 32 GB micro SD card. The front and rear dashboard camera from Hammacher Schlemmer will supports cards up to 128 GB.
It has a 2-inch LCD display, plus it's packed with safety features such as a patent along Stop & Go, Light Reminder, and a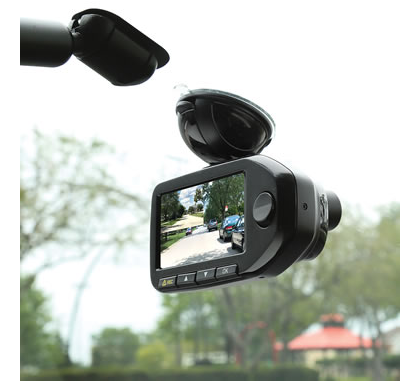 Driver Fatigue warning features for safer driving habits. The front and Rear Dashcam is equipped with a G-Sensor-enabled recording feature which detects any impact, drastic braking, or sharp turns and immediately activates emergency recording, and the file will be write-protected, so it can't be tampered with. This makes it admissible in traffic court or to emergency responders at the scene.
The front and rear dash cam features 3 recording modes: Automatic Recording, Monitor Mode, and Motion Detection Mode. The automatic Recording mode begins once you turn your vehicle on, loop recording your drive by default. The monitor mode and motion detection mode begin recording or taking intermittent snapshots when motion is detected in front of your vehicle. You will need the "Dashcam Cable Kit," for Monitor Mode and Motion Detection Mode; as the front and rear Dashcam has to be hardwired into your vehicle for those modes to operate. The Dashcam cable kit is sold separately.
The Front and Rear Dashcam settings can all be easily accessed using the clear LCD screen, plus it does have 1 usb port, allowing you to easily move all your HD videos to a thumb drive for safe keeping.
The down side of this dashcam is is features WIFI. However, for the features, quality and the price it a very good option.
Hammacher Schlemmer Lifetime Guarantee
The Front and Rear Dashboard Camera comes with The Hammacher Schlemmer Lifetime Guarantee. If you should not 100 % satisfied  you may return your dash cam for exchange, credit, or refund.
A single motor vehicle accident can cost you thousands of dollars in repairs, insurance premiums and of course liability and health coverage, and even time off from your job. You owe it to yourself to  purchase a dash-cam!
Website: hammacher.com