Can you believe that Valentine's Day is next week? While most people consider Valentine's Day a holiday for adult romantic
partners, kids can certainly enjoy the spirit of Valentine's Day. After-all, Valentine's Day is really just a day to celebrate love. When thinking of Valentine Day gift ideas for kids, plush stuffed animals from Aurora make the perfect gift.
No other stuffed animal embodies the spirit of Valentine's Day better than a teddy bear. Made with Super soft, snuggly plush and a sweet face, love bear features a bright red bow on its neck. Love bear comes in both white and brown and stands 11.5 inches.
Standing 5 inch tall Aurora, Luv Bits are available in 4 designs, each stuffed animal features a stuffed heart with a word written on it. Choose from a fox, dog, pig or frog.
Aurora World's Pammee plush characters are part of the YooHoo & Friends Collection and each feature beautiful fabrics and accents. Measuring five- inches tall, Pamme Pink
Cheetah is made of high-quality plush materials, features oversized eyes, and wears a pink spotted cheetah print with metallic ears and matching bow. YooHoo Frog and YooHoo bee are sold separate and new for Valentine's Day 2018.
Give your child a cuddly toy they'll love for years to come. From huggable teddy bears to the YooHoo & Friends  collection these stuffed animals are made to love.
Don't forget grandma and grandpa who might be living in a nursing or retirement home. Seniors love stuffed animals. The very idea of a stuffed animal signifies something that is soft, cuddly and comforting. Sad Sam & Honey were created in 1980. Squeeze Sad Sam's cute little tummy to hear him whimper! Sad Sam & Honey are sure to warm the heart of any senior!
Nothing says Happy Valentine's Day like Aurora stuffed animals. Their Valentine plush toys are trendy, cute, and cuddly! Aurora products are available in more than 25,000 specialty stores and gift shops worldwide as well as online at shop.auroragift.com.
About Aurora
Aurora World, Inc. (www.auroragift.com) is a leading manufacturer and supplier of high quality, competitively priced plush toys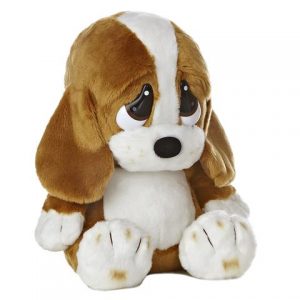 and gifts. Aurora's name reflects its extensive product lines and growing influence in the worldwide marketplace, as well as its international manufacturing, R&D and distribution resources. Founded in 1981, the company has headquarters in Korea, United States, the United Kingdom and Hong Kong, and has ascended quickly to become a respected leader in the toy and gift industry. Aurora created the international plush toy phenomenon – YooHoo & Friends™ – and its corresponding free, interactive web site (www.yoohoofriends.com), appealing to young children and tweens alike. The company sells its products via a wide variety of retailers including major zoos, high-end toy stores such as Learning Express, top gift chains such as Hallmark and Claire's as well as hospital gift shops, fine florists, candy stores and gift/stationery stores worldwide.