While Moose Toys captures the hearts of children with its Shopkins brand, and MGA Entertainment's L.O.L. Surprise line is a top toy sensation, Hasbro's Littlest Pet Shop has been winning children over since the early 1990s with their littlest pet shop toys. Now, more than a decade later,  Hasbro releases all new Littlest Pet Shop characters that are sure to appeal to Littlest Pet Shop fans young and old. Parents everywhere, expect to see these new Littlest Pet Shop toys on letters to Santa this upcoming holiday season.
Why don't we check out what's new for Littlest Pet Shop!
Littlest Pet Shop Tr'eats Truck Playset Toy
Perhaps the best word to describe the Littlest Pet Shop Tr'eats Truck Playset Toy is "snacktacular." The truck features will inspire children to invent all kinds of snack-happy stories.
Under the roof is a spacious eating area for pets, complete with tube terrace. In the middle of the truck you'll find the service counter, display menu, and hamster-wheel food server.
There are over fifteen food accessories – pizza, tacos, cheese, and other tasty looking treats. The truck features two seats at the front, and plenty of room for pets to snuggle into the rolling wheels.
If the Littlest Pet Shop Tr'eats Truck Play set isn't enough, kids can design an entire Littlest Pet Shop world, with a wide collection of Littlest Pet Shop play sets, all of which are pretty amazing.
Littlest Pet Shop Hungry Pets Blind Bag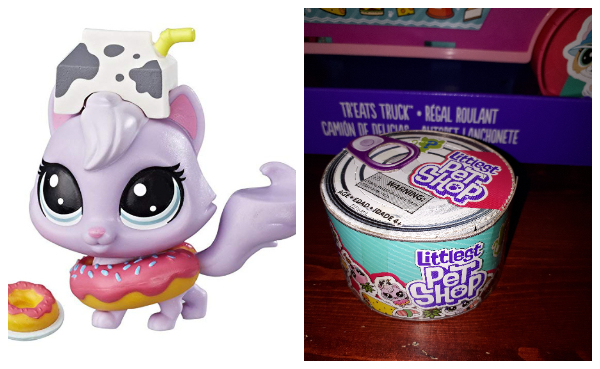 For fans of blind bag collectibles comes Littlest Pet Shop Hungry Pets Blind Bag. It adds extra fun to playtime when Littlest Pet Shop pets are dressed up like their favorite treat. Each can includes one classic-scale pet and three themed accessories.  There are 10 different styles to  collect, but you won't know which one you're getting until you pop the lid off and look inside. I have to admit that I absolutely love the can details that this pet comes in. It looks like a can of pet food! Kudos for packaging design. Although the real fun is the surprise inside the can.
Littlest Pet Shop Series 3 Cosmic Pounce Collection Pack from Hasbro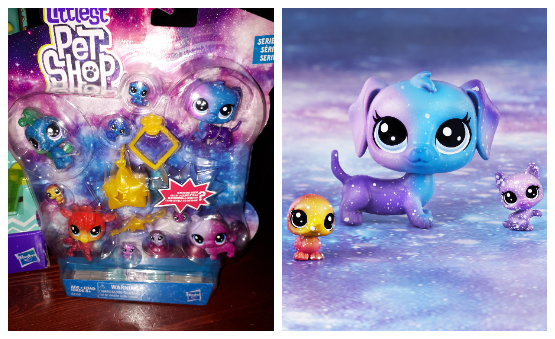 The Littlest Pet Shop Cosmic Pounce Collection pack includes 11 pets, including four classic sized pets and seven teensie pets, each sporting their very own galaxy deco. What makes this even more unique is the Littlest Pet Shop Cosmic Pounce Friends glow in the dark. The collection includes a wearable star-shaped habitat that hides a Teensie-scale pet.
These are fun new figures that Miss P will love adding to her Littlest Pet Shop collection. I really like the galaxy cosmic design of each pet, and the glow-in-the-dark feature adds a nice touch to the characters.
Littlest Pet Shop Toys

Miss Paige has been collecting Littlest Pet Shop toys for two years now. She currently has almost three hundred Littlest Pet Shop pets in her collection, not counting her Littlest Pet Shop mini pets where she has just over a hundred. She also owns various Littlest Pet Shop playsets including Littlest Pet Shop ultimate apartments, the Littlest Pet Shop LPS Shuttle Bus, the Hasbro Littlest Pet Shop get better center, Littlest Pet Shop Round N Round Pet Town and the Littlest Pet Shop collect play and display set just to name a few. I know that these new characters and playsets will be a welcome addition to her collection come Christmas morning.
The History of Littlest Pet Shop Figures
Littlest Pet Shop toys were first introduced in 1992 by Kenner. Back then, the plastic toys looked like miniature replicas of all sorts of animals. The brand was reintroduced by HASBRO in 2005 with a fresh new look which has made it one of Hasbro's most successful toys. There are currently over 3,000 different pets that have been created under this revision.
The Littlest Pet Shop all new line is available at most major toy retailers nationwide and on HasbroToyShop.com.
Shop Amazon for Littlest Pet Shop