The Magic School Bus is the most successful and longest running children's science series. This holiday season your child(ren) can join Ms Frizzle and her students as they make science an exhilarating experience. The Magic School Bus Science Kits top our Christmas list when it comes to STEM Toys. Appealing science kit titles like Jumping Into Electricity, and The Magic School Bus Attracted to Magnificent Magnets will introduce scientists as young as 5 years old to everyday STEM concepts. The new Magic School Bus science kits are gender-neutral and have numerous experiments in each box.
The Magic School Bus Attracted to Magnificent Magnets Set
The Magic School Bus science kit includes everything my young scientist needs to preform a bunch of magnetic experiments. Inside the kit is: Borax, piece of lodestone, 2 paper clips, 3 bar magnets, glue, 1 toy car, iron filling, glue, dish and straw.
It also includes an experiment booklet with twelve experiments. Each experiment has a section where children or parents can write down results and observations. In the back of the guide is an answer section for each experience.
Our Thoughts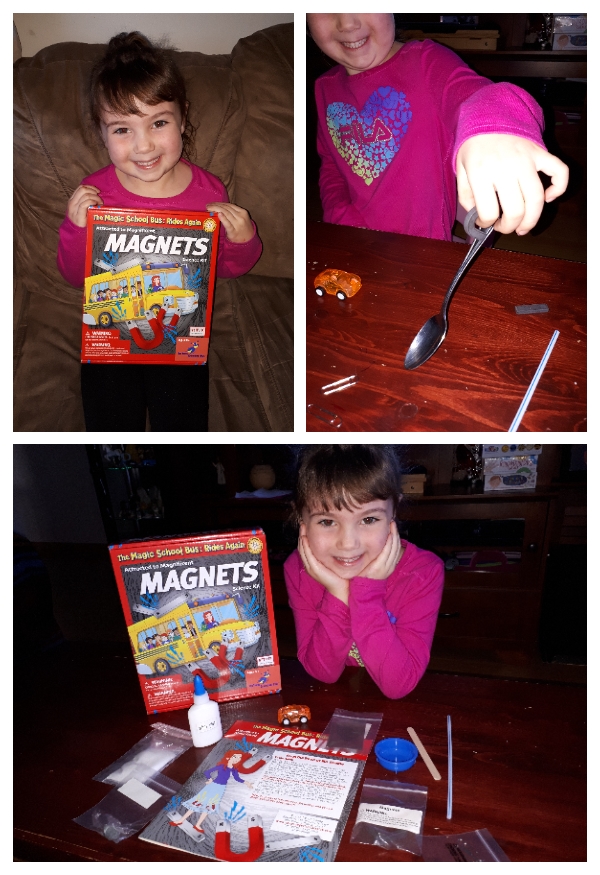 Some of the experiences are super easy while others are more complex. I chose to start Miss P off with a very easy experiment from the book. The first experiment you use magnets to see which types of items are attracted to them. Miss P was quite impressed that a magnet can pick up a spoon.
However, she is most impressed by what happens when iron filling and a magnet are placed very close to the lodestone. She marvels at how the iron filling jumps up and attaches to the lodestone when you hold it above the filing.
Overall,  Miss P has enjoyed learning all about magnets and experimenting with them. Miss P is able to do many of the experiences with the assistance of her father and I. Though the recommend age for the Magic School Bus Attracted to Magnificent Magnets Set is five and up I feel a couple of the experiments may be better suited for children age 7 and up.
This upcoming holiday season give the gift of learning. Magic School Bus Science Kits make the perfect gift for budding young scientists and fans of the Magic School Bus.
So what do you think? Have you tried any of the science kits?
ABOUT THE MAGIC SCHOOL BUS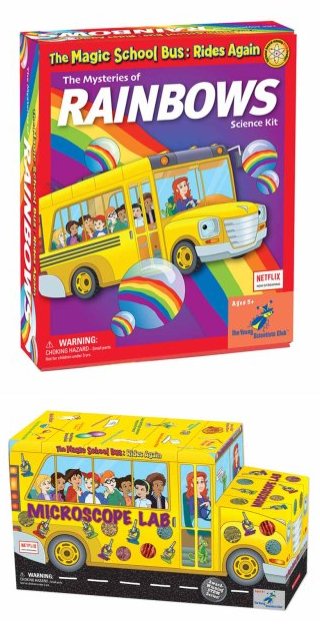 The Magic School Bus is an animated children's television series originally airing on PBS Kids in the early 90s. Each episode of the series ran for 30 minutes. The show was based on the book series of the same name written by Joanna Cole and Bruce Degen. In 2017, Scholastic and Netflix released the animated series The Magic School Bus Rides Again, for a new generation of children to enjoy
Old favorites like Arnold and Ralphie join new students like Jyoti, a tech-savvy wiz-kid. Starring Kate McKinnon as Ms. Fiona Frizzle, Ms. Valerie Frizzle's kid sister! With the help of her upgraded Magic School Bus, Ms. Frizzle takes her class on wild field trips exploring a wide variety of science topics including, invasive species, weather hazards, schools of fish, the rock cycle, magnets, allergies, camouflage, states of matter, satellites, glaciers, brain and nervous system, and deep sea exploration!
Website: theyoungscientistsclub.com