Today's Woman Creative Arts Play Winner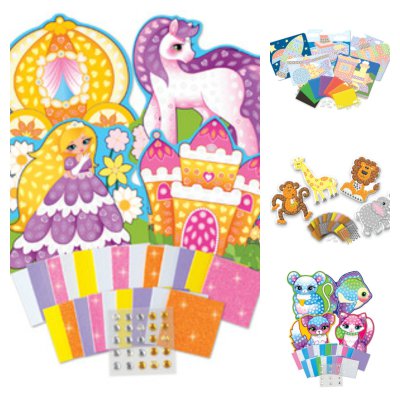 This upcoming holiday season inspire creativity and educational playtime with "My first Sticky Mosiacs" from the Orb Factory. Recommended for children aged 3 years and up, "My first Sticky Mosiacs" is a great quiet time, no mess fun, easy-to-do activity that results in sparkly and beautiful room décor.
A great educational toy gift "My First Sticky Mosaics" helps develop concentration, manual dexterity and hand-eye co-ordination.
These inexpensive craft kits are perfect for young preschool artists in training. There are several different picture options to choose from.
My daughter owns the "My first Sticky Mosiacs Pets." The kit includes 4 fun mosaic templates-Mouse, Kitty, Puppy & Fish, over 500 sticky foam, jewel and fuzzy tiles.
I like that the cardboard pieces are thick and durable enough to withstand rough-holding by a young child. The foam stickers are just the right size for little ones to handle and the color and shape matching is easy for young children to understand.
Though my daughter needed a little help removing the foam stickers from the sticker packs, she did an excellent job matching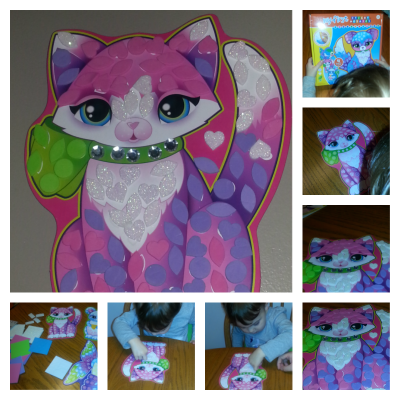 up the shape/color and placing the sticker in the correct spot. I like that the pieces are easy to unstick and re-position, without damaging the cardboard surface. There's even room for creativity.
With some more practice, she will soon be able to do the activity all on her own without any help from mom.
Not only are these mosaic kits great for color and shape teaching, they also provide ample small-motor and dexterity practice.
My First Sticky Mosaic sets come with a hanging hoop that allows children to hang their finished mosaic on the wall. These would make wonderful gifts for kids to make to give other children.
To learn more about Orb Factory, be sure to visit them at: orbfactory.com