One item on Today's Woman's summer toy list is a kite. Just like blowing bubbles it is part of a childhood unplugged.  Flying kites is  a great reason to get outside, disconnect from technology and reconnect with nature. While there are a lot of licensed character kites out there for kids, these expensive kites are poorly made and don't fly well. During my online search for a kite for my daughter I notice that online retailer aGreatLife has a good selection of kites for kids.
Rainbow Butterfly Kite Review
Our choice, The Rainbow Butterfly Kite from aGreatLife is a wonderfully bright and impressive kite. It is very easily to assemble following the instructions on the packet and we had ours put together in just a few minutes.
The company aGreatLife wants to insure that their costumers enjoy their kite for many years to come. Therefore, they use high quality and fade-proof ripstop polyester fabric for increased stability, sturdy rods to provide a strong frame and an easy-grip flat line winder with durable string for easier navigation.
The Rainbow Butterfly Kite measures 38.2 inches long and 18.1 inches across. It features a 7-feet long tail for superb stability during flight. The easy-grip handle, makes it a perfect option for beginners. It comes with 50-m string for your flying pleasure. The kite itself is very lightweight.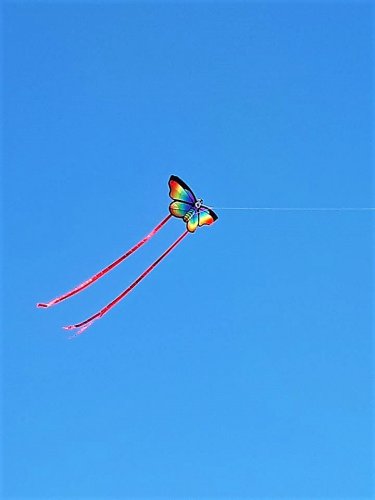 The kite flies well in light to medium winds (approximately 6-15 mph). The first day we flew the kite, wind was about  4 mph, so we had quite a few crashes.  As for durability, it has so far survived all crashes with no damage to the kite. It almost indestructible.
Packing up is a breeze, too! The Rainbow Butterfly Kite is fully fold-able for easy storage. It disassembles as quickly as it goes together.
In addition to The Rainbow Butterfly Kite, other popular kites for kids include: A best seller on Amazon- aGreatLife Huge Rainbow Kite for Kids, baby octopus kite, pirate kite for kids, hotdog kite, a unique ice-cream cone kite and a diamond shape kite.
Not only are kites fun to fly, learning how to launch and control a kite will help a young child develop coordination and critical thinking skills. Kids can also learn about weather, science, physics,  and ecology. A young child will also feel the excitement when they finally launch, therefore building their self-esteem. I remember the joy of flying my first kite. I remember that spark of magic I felt in not just getting my kite up into the air, but in seeing how high and far away it would travel.  Do you remember the joy of flying a kite when you were a child? Does your child own a kite?
Keep in mind these common Kite flying safety precautions:
Never fly near power lines.
Don't fly  your kite in stormy weather.
Don't fly your kite near airports.

Keep your kite far from roads and highways.

Don't let children fly the kite without supervision.
Always fly in large, open areas free from trees
Do not fly your kite over people.
Inspect our kite often for damages!
About aGreatLife
aGreatLife is the brainchild of Tony Christer and Victor Vil. They created the company out of their passion for helping people build priceless memories with friends and family. aGreatLife sells a range of children's educational toys, and kites for kids both directly on their website and through online giant, Amazon. In the three years since the company launched, aGreatLife has grown its consumer base and now serves happy customers all over the US, Canada, Europe and Asia. The company aims to make and sell products that help families build a connection, diverting them from screens to spend quality time together. To find out more and view aGreatLife's products visit their website, Amazon store.
Website: http://www.agreatlifebrand.com