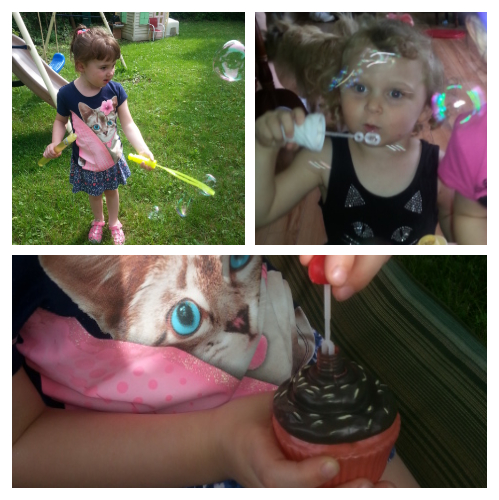 During the summer, my daughter spend hours each day outdoors. Sometimes it's at the park or at the splash pad, but most of the time it's in our own backyard. One of her favorite outdoor past times is playing with bubble toys.
After-all, who doesn't love blowing bubbles? Bubbles are a summer staple.  Bubble toys are  inexpensive, and they never fail to fascinate and entertain children both young and old.
There is no end to the different kinds of bubble wands  either. Each wand gives off a different amounts of bubbles. There are even bubble guns and bubble machines. You can even make your very own bubble wands.
Not only is bubble play an easy way to have fun, bubble play boost language development, joint attention and eye-hand coordination. In fact, research shows that playing with bubbles is actually an important accessory in the development of their gross motor skills. Plus, your youngster will learn about cause and effect and basic physics. Blowing Bubbles can also be a fun way to get kids active as well. Encourage your child to run after the blowing bubbles or let them land on their arm.
Bubble Toys from Incredible Novelties
Bubble-time just got a lot more fun for my daughter and niece with some new bubble toys from Incredible Novelties. This past week they enjoyed playing with bubble bottles shaped like soft serve ice cream cones, and bubble bottles shaped like cupcakes. Both were filled with bubbles.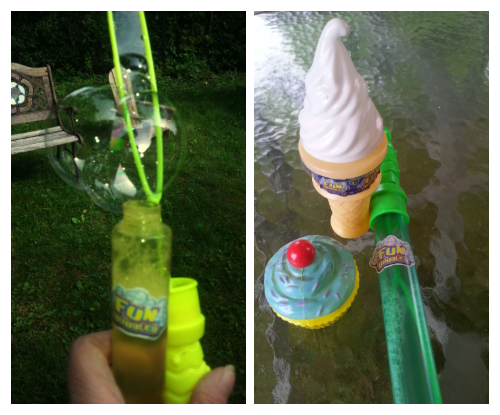 The bubble soap and wands work well on both products, and were easy for the girls aged 2 and 4 to use. On the cupcakes the cherry unscrewed to reveal a small wand, sized perfect for small hands.
Blowing bubbles isn't just an outdoor activity. It was raining outside and the girls wanted to blow bubbles, therefore we resorted to blowing bubbles indoors. Both the cupcake and ice-cream were sized perfect for this fun indoor rainy day activity.
It's just not a party without bubbles! Both the ice-cream cones and cup cake shaped bubble toys make fun party prizes and treat bag additions for summer birthday parties.
These bubble wands features a bright handle and a plastic tube full of bubble solution. Simply dip the wand into the bubble mixture and wave around to create lots of large bubbles. This bubble toy is great for encouraging physical development and stimulating the senses. From outdoor play, to party favors this bubble wand is sure to keep any child entertained.
Bubble solution can also be created using a mixture of many kinds of liquid soap you already own.
Make your own Bubbles
First, use any kind of liquid soap as your base. Add cornstarch to make the bubbles strong. Mix the following ingredients in a bottle:
1/4 cup dish soap
1 cup water
1 teaspoon cornstarch
Happiness is blowing bubbles! Check out these bubble toys and other outdoor Summer toys from Incredible Novelties. Incredible Novelties is a leading supplier for Novelties, Party Favors, and Creative Promotional Products.
Website: http://www.incrediblenovelties.com