La Vie en Rose is proud to unveil its new "Confidence Through Comfort" bra campaign, highlighting each woman's individual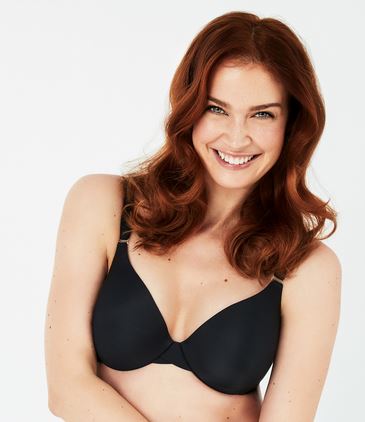 beauty. With this campaign, the leading Canadian specialty lingerie brand is highlighting a wide range of its top styles that meet different needs and whose common feature is comfort.
"Nothing makes a woman more beautiful than the confidence she radiates. At la Vie en Rose, we are convinced that a woman can be confident only if she is comfortable first," says Marie-Noël Gervais, Vice-president E-commerce and Marketing Strategy at la Vie en Rose. "Our new 'Confidence Through Comfort' campaign is not a repositioning, because comfort has always been a priority for la Vie en Rose. It is an evolution of our image, a clear affirmation of who we are, and of our products' DNA."
For its campaign, la Vie en Rose chose a white background, stripped of all decor with basic coloured bras worn by models of different ages, ethnicity and bust size. With close-up shots of the women, the company's pictures and videos draw attention to the sense of confidence, ease and well-being that each model expresses in her own way, exemplifying that comfort is personal to every woman.
"It is clear to us that the discussions among our customers are no longer about being sexy above all when it comes to lingerie," explains Mrs. Gervais. "We have a social media community that shares a lot with us. They want to feel good first, please themselves before anyone else and accept and enjoy who they are and how they look. We wanted to create a campaign with this in mind, in which our customers could see themselves, and help those who don't know us to discover la Vie en Rose."
An Addition to the Bra Offering Continuously working to improve its offering and meet women's different bra needs, la Vie en Rose takes advantage of the launch of its new campaign to introduce its latest bra style, the Sweetheart by la Vie en Rose. This new addition to la Vie en Rose's comprehensive bra collection is an ideal style for women looking for perfect contour without the extra padding, a charming moderate cleavage, adequate support and remarkable comfort. The Sweetheart by la Vie en Rose will surely become the next favourite bra for Canadian women.
The "Confidence Through Comfort" campaign as well as the new Sweetheart by la Vie en Rose bra can be found today in all la Vie en Rose stores across Canada and online at www.lavieenrose.com.
About la Vie en Rose
La Vie en Rose is the leading Canadian specialty lingerie and swimwear retailer catering to women aged 25–45. Known as a bra specialist, la Vie en Rose also offers a range of lingerie, sleepwear, loungewear as well as swimwear, beachwear and accessories. Acquired in 1996 by President and CEO François Roberge, the chain now counts over 180 boutiques nationwide and 2,000 employees. Since the beginning of its international expansion in 2004, la Vie en Rose has opened nearly 100 boutiques outside Canada, in 16 countries. Headquartered in Montreal, la Vie en Rose is a true Canadian success story and continues its international growth.