Scholastic Canada, the country's largest distributor of children's books and educational materials, has released results from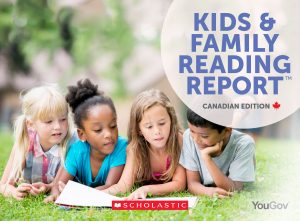 the first Kids & Family Reading Report™, Canadian Edition. The national survey, which was conducted in both French- and English-speaking Canada, explores the attitudes and behaviors around reading among children ages 6–17 and their parents, as well as parents of kids ages 0–5. Key findings reveal what kids and parents look for in children's books—including types of storylines and characters; the power of choice; diversity; the importance of reading aloud to children from an early age; and views on summer reading.
"The Kids & Family Reading Report, Canadian Edition underscores the importance of reading and making sure kids have access to books they want to read. We were surprised to see the Canadians we surveyed reported having significantly fewer books in their homes than their U.S., U.K. and Australian counterparts*. Canadian children also trended higher when it comes to having difficulty finding books they like." says Nancy Pearson, Co-President of Scholastic Canada. "Parents also underestimate the difficulty kids have in finding books they enjoy. But the report also shows that schools, libraries and teachers all play an equally important role in guiding children with book selection and reading frequency. It only emphasizes how vital it is for adults to take an active role in raising strong readers. "
The Kids & Family Reading Report, Canadian Edition covers five key sections including:
The State of Kids & Reading in Canada
Ninety-one percent of kids ages 6 –17 and 97% of parents agree that being a good reader is important for kids' futures.
On average kids ages 6 –17 have read 23 books in the last year and 86%  of kids are currently reading or have just finished reading a book for fun.
Children, particularly those who are frequent readers, gain inspiration (76%) and a sense of accomplishment (90%) from reading.
Kids who are frequent readers are more likely to have parents who read books 5–7 days per week
What Canadian Kids & Parents Want in Books
On average, families report having 80 books in the home, with frequent readers' homes having 118 books, compared to 61 books in the homes of infrequent readers. (Frequent readers are defined as children who read books for fun 5–7 days a week, whereas infrequent readers read book for fun less than 1 day a week)
Despite 94% of children agreeing that their favorite books—and the books they are most likely to finish reading (92%)—are the ones they have picked out themselves, almost half (47%) said they have trouble finding books they like, and that percentage jumps to 69% for infrequent readers.
Parents underestimate the challenge their kids have finding books they like with only 36% of parents agreeing that "my child has trouble finding books he/she likes."
One in five children and parents look for books with characters that are culturally or ethnically diverse, with 74% of those parents identifying diversity in children's books to mean "people and experiences that are different than those of my child." Nearly half of kids 6-17 (46%) and parents of 6-17 year olds (45%) want books that make kids laugh. Parents (41%) and kids (39%) of these ages also look for characters who face a challenge and overcome it when choosing a book to read for fun.
 Reading Aloud
Ninety-three percent of kids ages 6 –8 and 87% of parents say they enjoyed read-aloud time, and parents of children ages 0–5 cite reading books aloud, telling stories and talking together as among the most important things parents should do with their children to develop language skills.
While more than half (61%) of children ages 0–5 are read aloud to 5–7 days per week, the frequency of reading aloud drops significantly after age 5 (41%) and again after age 8 (16%), with 58% of kids ages 6–8 who are no longer read aloud to saying they wanted reading aloud to continue. Among all children who are no longer read aloud to, boys are more likely to say this than girls.
The top reasons parents and children ages 6–11 say they like or liked reading aloud together are:

It is a special time with my child/parent.
Reading together is fun.
It creates a love for reading.

More than half of parents (54%) received advice from parenting resources or friends and family that they should read aloud to their child from birth; despite having received this advice, only 35% of parents of 0-5 year olds started reading to their child before 3 months of age.
Reading in Canadian Schools
Sixty-five percent of kids ages 6–17 have the chance to read independently during the school day with 42% saying, "I wish we would do this more often" and 34% saying, "It's one of my favorite parts of the school day."
Kids who read independently at school are more likely to:

Find reading books for fun important.
Like reading books for fun.
Agree books have inspired them to believe in themselves.
Read 15 more books on average per year than kids who do not read independently at school.

Ninety-seven percent of parents agree that every child deserves to have a school library.
Summer Reading
Most kids ages 6–17 (84%), and even more parents (96%), believe in the value of summer reading and agree that reading books during the summer will help them during the school year.
Three in four kids (76%) say they really enjoy reading books in the summertime, with just over half of parents (54%)  reporting their kids read over the summer without prompting, but 34% of parents say they have to work at encouraging their child to read over the summer. Parents use many strategies to encourage summer reading, including:

Taking kids to the library.
Taking books along on vacations or road trips.
Stocking up on books for the summer.

One in three (31%) parents have ever heard, read or received advice about the summer slide—the loss of skills during the time when students are not in school.
To download the full report visit: scholastic.ca/readingreport.
About the Kids & Family Reading Report: The Kids & Family Reading Report™, Canadian Edition is a nationally representative survey which was conducted in English and French. This is the first edition in Canada following the international surveys conducted by YouGov on behalf of Scholastic U.S., U.K., Australia and India. The study was managed by YouGov and was fielded between January 31 and February 6, 2017. The total sample size of 1,939 parents and children includes: 371 parents with children ages 0–5; 784 parents with children ages 6–17; plus one child age 6–17 from the same household. For the full methodology, please visit www.scholastic.ca/readingreport
 ABOUT SCHOLASTIC CANADA:  Scholastic Canada is the country's largest publisher and distributor of children's books in both official languages.  The company is a leading provider of quality books and ebooks, print and technology-based educational resources.  Scholastic also makes a great variety of books available to children through school-based book clubs and book fairs as well as retail and online stores, schools and libraries.  Established in Canada in 1957, with a long history of service to schools and families, Scholastic Canada continues to carry out its commitment to "Open a World of Possible" for all children.  Learn more at www.scholastic.ca
Scholastic Canada Ltd. is a wholly owned subsidiary of Scholastic Inc., a publicly held company trading on NASDAQ under SCHL.
ABOUT YOUGOV: YouGov is a pioneer in online research with offices throughout the United States, the UK, Europe, the Middle East, Africa and Asia. YouGov's custom research specialists conduct a full spectrum of quantitative and qualitative research providing comprehensive market intelligence to the world's leading businesses and institutions. YouGov was recently named one of the world's top 25 research companies by the respected American Marketing Association Top 25 Report and has a proven, published record of uniquely accurate data and actionable insights informing political, cultural and commercial organizations around the globe.
*References:
The Kids and Family Reading Report™: United States, 6th Edition http://www.scholastic.com/readingreport
The Kids and Family Reading Report™, Australia: http://www.scholastic.com.au/readingreport
The Kids and Family Reading Report™, United Kingdom: https://www.scholastic.co.uk/readingreport