Please note that this article was originally published in June of 2017, and its content reflects that date, though it has now been updated to add new content as of Nov 2017.
Dear class of 2017, as you head off to college we realize that you are busy finding all the gear that you need. Let us help you find the right laptop, the best headphones, and other essentials.   BRIGADA's waterproof Bluetooth headphones will be perfect for those long study days and nights ahead. We find them to be a high-level set of earphones that do a remarkable job when compared to other brands out there. They feature a stylish design and are very comfortable to wear.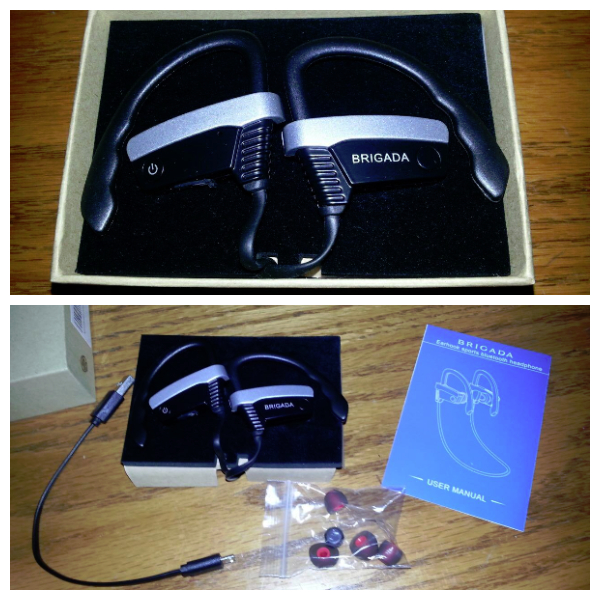 The ear hook design holds the earphones in place very securely. They come with variations of ear tips (4 sets), compared to other brands of earphones I have ordered. This allows them to best fit your ear size.
Overall passive noise isolation is excellent for the gym. You get a solid six hours of battery life to last you a good amount of listening time, whether you're commuting, or exercising at the gym. Charging it to its maximum capacity takes just 1.5 hours.
The ear buds are very light weight and you will soon forget you're wearing them. The waterproof Bluetooth headphones come with a tangle-free cord, which is ideal. The earphones are sweat resistance, therefore perfect for running.
These waterproof Bluetooth headphones certainly don't skimp on sound quality. The sound quality is suitable for all music genres. Making and accepting calls works well. The microphone call quality is exceptional. My recipient (husband) said I was crisp and clear during testing. Bluetooth range is very good- it comes with a wireless range of 30 feet.
But by far the biggest selling-point of the headphones for me is their IPX7 rating- which means you can still use them in heavy rain. IPX7 rating ensures the headphones are durable and shock proof.
The packaging includes manuals, earphones, USB charging cable, and replaceable ear tips of different sizes. The only thing the company may want to ad is a carry case.
Overall an excellent purchase! BRIGADA offers a life time warranty on their waterproof Bluetooth headphones, plus easy-to-reach customer support.
BRIGAD'S waterproof Bluetooth headphones can be purchased via Amazon.ca.
College School Supply Essentials
Don't start another school year without a battery pack.  A portable charger is one of those essentials that you'll want to keep in your messenger bag.
According to research, a laptop is stolen every 53 seconds. 1 in 10 individuals will have their laptop stolen at some point. With stats like those you want to do everything in your power to avoid becoming a victim of theft.  The SentrySafe PL048E Portable Laptop Safe is large enough for you to store all your personal valuables in.
Digital voice recorders are perfect for recording lectures and to later use for study notes. To narrow down your search in finding the best digital audio recorder we recommend the AGPtEK M23 8GB Digital Voice Recorder.
A Western Digital Passport will help ensure that losing your laptop doesn't mean losing the only draft you had of your school assignment that is due on Friday.
When it comes to the best laptop for college, Microsoft's Surface Laptop is said to be the best laptop ever made for students. The Surface Laptop has a great design an is travel friendly for students heading too and from class.
Next to a laptop, a laptop bag is one of the most important purchases a post secondary student will make. A good laptop bag needs to get them through the school year. Our top choice is the Universal Laptop Messenger Bag from MacCase.
Upgrade your gym bag with a stylish duffle gym bag from Coreal.The bag has a roomy design , is water resistant and is made from a wear-resistant nylon. It easily fits everything you need to hit the gym.
What is on your school supply list for college?
This article was updated Nov 2017.