By Tanya
I love to watch my daughter swim. She is enrolled in swimming at our local YMCA. In order to protect her eyes during swimming I assist on her wearing goggles. When choosing swimming goggles for my daughter it was important that I did my homework in order to find the perfect pair that would protect her eyes from bacteria, chemicals, and other substances found in pools. It was also very important that they fit her head comfortably, did not pull her hair out or involve a battle to put on. Finally I found Frogglez Goggles.
The construction of these googles is quite an ingenious design. The lens of the goggle is one complete piece of soft pliable plastic, with clear polycarbonate lenses. The bridge is very flexible. The bridge almost feels as though it is made of silicon, which is both very durable and incredibly pliable. The benefit of the bridge being one solid piece is that you don't need to worry about little fingers being pinched on any type of small hinge.
The band attaches to the front with Velcro snaps. These Velcro snaps allow for easy sizing. The Frogglez Goggles are easy enough for my seven year old daughter to adjust on her own. This makes it simple for last minute adjustments poolside, especially during swim lessons.
The band is made of stretchy, soft neoprene, the same stuff wetsuits are made of. Neoprene is so stretchy that the goggles will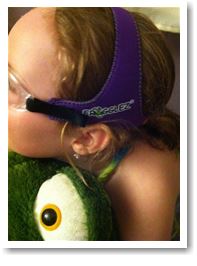 fit my daughter for many years to come. The band also dries very quickly. Neoprene is a great material that doesn't harden when drying. Unlike most swim goggles on the market, with rubber straps, Frogglez neoprene straps don't get stuck in hair or hurt your little ones head while putting on. Frogglez Goggles are the most comfortable goggles my daughter has ever owned.
We also found Frogglez Goggles design to be secure. Even with quick movements through water and diving, the goggles stay put, keeping water out of her eyes.
What came as a surprise to me is that Frogglez Goggles actually float! The neoprene material and light lenses are the perfect combination for a floating goggle. I work in optics and I can not tell you how many pairs of sunglasses and swim goggles are at the bottom of deep lakes and rivers.
Frogglez Goggles are the best goggles I have ever had for my daughter and have already recommended the goggles to other parents. As my daughter said, 'I love my Frogglez Goggles'.
Don't have children? Be different, and purchase a pair as a gift for an upcoming birthday!
Website: frogglezgoggles.com