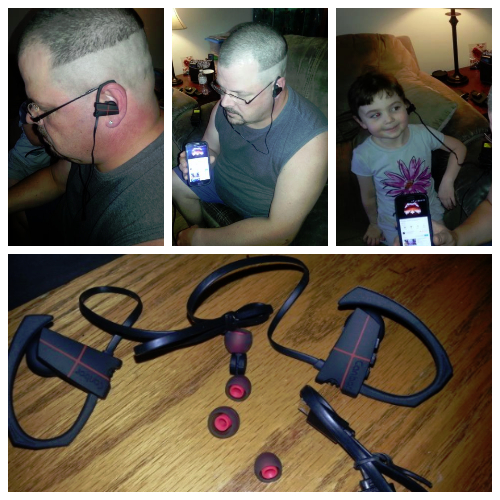 Summer is officially here. If you are looking for the best headphones for running might I suggest you ditch the wires and go Bluetooth? Canbor wireless Bluetooth headphones is one of the most comfortable, overall in-ear Bluetooth sports headphone on the market right now.
I found the headphones to be lightweight and offer good stable fit. They come with variations of ear tips ( 3 sets) so you can change them to best fit your ear size. The  Bluetooth earphones are sweat resistance making them perfect for running.
I use my cell phone on a regular bases for music and wanted a convenient way to change the volume while on the go. There are two ways to control the volume. On the ear buds themselves there is 3 buttons. The two outer buttons on the left and right control the volume up or down. The middle button powers them off and on. You can also control the volume using your smart phone or tablet by toggling the volume control button up or down.
To pair the ear buds with your smart media device you simply enable the Bluetooth feature and scan for Bluetooth devices. Once the scan is complete click the Canbor BH101 to complete the pairing process. The ear buds have voice command alerting the user when they are on, connected or disconnected.
You can also use them to answer your smartphone for hands free mode which also make them perfect if you're driving. The mic sound quality is good enough to make calls even with a 4 year old talking in the background. My recipient (wife) said I was crisp and clear during testing.
To charge them you simply use the supplied micro USB cable and plug them in to the pc, or tablet and connect the small end to the ear buds. It takes about 2 hours to fully charge the Bluetooth earphones, which gives you 8 hours playing time.
The earphones have good noise isolation, perfect for the gym. I actually plan to order a set for my daughter. If you are using them for running and want to hear more background noise just use the smaller ear buds.
We found the overall earphones to be super lightweight and the ear wings aren't too strong or aggressive. The built-in controls which are positioned on the side of the earbuds are easy enough to press even for people with big fingers like mine.
Range control is excellent too. Bluetooth 4.1 has the average range of about 30ft (10m) which shortens with more obstacles in between.
You get 1 year of manufacturer's warranty meaning if there is anything wrong with the earbuds when you buy them you get a new pair. If you're looking for affordable, wireless Bluetooth headphones with great fit, comfort, durability, sweat-proof design I highly recommend Canbor wireless Bluetooth headphones.
Shop: Amazon.ca