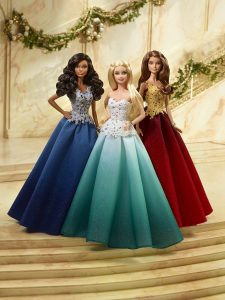 Holiday Barbie dolls were first released in 1988. Since their introduction in 1988, people have been purchasing Holiday Barbies to play with and collect. My oldest daughter now age 26 still has her 1996 Holiday Barbie Doll, though she has passed her on to her younger sister. Holiday Edition Barbie have a little something extra that sets them apart from the standard Barbie line. Mattel's Holiday Barbie Dolls for 2016 brings to us all the wonder of the season. This is the first year that Mattel is giving us three dolls for the holiday season. The 3 dolls making up the "Peace, Love, and Hope" collection. They come showcased in a snow globe.
2016 Holiday Barbie Doll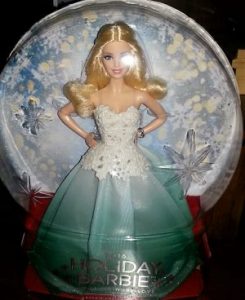 The blonde doll that my daughter has is sporting a gown that features a lace-like bodice and white to blue hombre skirt. The icy features add elegance to the dress while giving us that classic Holiday Barbie look. I love that Mattel has made a departure with the 2016 holiday dolls, choosing "blue" as a statement color for two of the dolls. This of course compliments the more traditional 2016 Holiday Red Barbie Doll.
Like all Holiday Barbie dolls,  the peace, love and hope collection are collectors doll. Regardless, I plan to take our holiday doll out of the box and let my daughter play with her. If you are buying this for a little girl and do not want her to play with the Barbie, I recommend probably picking up a couple additional Barbies, maybe even a 2nd holiday Barbie that she can play with to remove the temptation.
As seen in our holiday gift guide!
About Mattel
The Mattel family of companies is a worldwide leader in the design, manufacture and marketing of toys and family products. Mattel's portfolio of best-selling brands includes Barbie®, the most popular fashion doll ever produced, Hot Wheels®, Monster High®, American Girl®, Thomas & Friends®, Fisher-Price® brands and MEGA® Brands, as well as a wide array of entertainment-inspired toy lines. In 2015, Mattel was named one of the "World's Most Ethical Companies" by Ethisphere Magazine and in 2014 ranked No. 5 on Corporate Responsibility Magazine's "100 Best Corporate Citizens" list. With worldwide headquarters in El Segundo, Calif., Mattel's companies employ approximately 31,000 people in 40 countries. Visit at mattel.com.