Are you looking for the perfect retro gift this Christmas for that 80's fan?This timeless, classic will be a great addition to your  gift recipients family game night.  Rubik's Race is a re-introduction of the original '80s game inspired by the Rubik's Cube. The game adds some friendly competition to the challenge of solving a Rubik's Cube.
Timeless toy- the Rubik's Cube
The original Rubik's Cube was invented in 1974 by Ernő Rubik. After a period of incredible global popularity, the Rubik's Cube has become the world's bestselling toy, with over 400 million cubes sold so far. In the 1980s Rubik's Cubes seemed to be everywhere, but there are still lots of people obsessed with the coloured puzzles. Rubik's Race is a great two player addition to the Rubik's brand for both adults and children.
Best 2-player game
One of my favorite things to do over the holidays is pull out a board game or two from our growing collection.  While the majority of our games support two players, it is nice to have a two-person game among our collection. Rubik's Race is the ultimate face-to-face game that consists of two trays, a divider, 48 tiles and a scrambler.
How to play Rubik's Race
For those of you who don't know how to play, it's pretty simple.To begin, place 24 tiles on each of the trays and link them together with the divider.
Shake the scrambler and then to make the pattern shown in the scrambler, you need to slide the tiles around, much like those sliding puzzles you may have played with as a child. The first person to recreate the 9-tile pattern in the centre of the tray lowers the divider and wins.
With Rubik's Race, the tiles are loose which allows for ease of play. The disadvantage to this though is that if you slide too hard, the tiles do pop out of place.
Regardless, Rubik's Race, is one of those fun games to play if you enjoy speed puzzle games. It's way easier to solve than a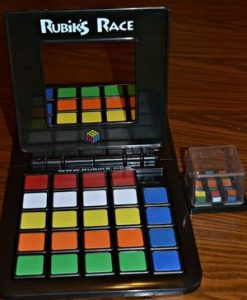 regular Rubik's Cube. I played a few rounds against my husband and even manage to win a couple of games. It took me a bit to get the hang of how to shift tiles around. Once I got the hang of it though it was lots of fun.
The game offers lots of variation of play. For added fun, you can use the Rubik's cube instead of the scrambler, and even swap colours of tiles for more advanced game play. Challenge yourself to come up with your own patterns and versions for the game.
Tip: When game play is over, separate each player's tiles in separate Ziploc bags. That way, when you pull out the game to play again, you don't need to separate the tiles.
1 player game
Rubik's Race is also a game that one person could play , challenging themselves and keeping track of time with a timer.
If you're looking for a fun gift for the family, check out Rubik's Race. The game is suitable for children ages five and up. It can be found at toy and game retailers across Canada, including universitygames.com.
About University Games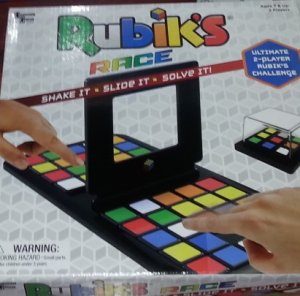 Founded in 1985, University Games has developed and manufactured over 500 games, puzzles, and children's learning and activity sets. The company philosophy has always been to offer products that encourage fun, creativity, and imagination for kids, families and adults. The company offers a wide array of products under the University Games®, Briarpatch®, BePuzzled®, U-Create™, Great Explorations® and Front Porch Classics® brands.