As the holiday season approaches we take a look at Barbie. For more than 55 years, Barbie has been a popular request on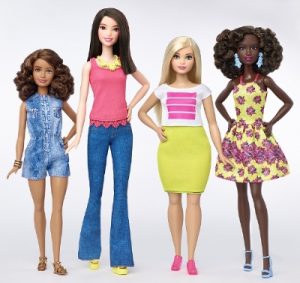 young girls' Christmas wish lists. After-all, Barbie has been a global, cultural icon and a source of inspiration and imagination to millions of girls around the world. Since her debut in 1959. Barbie has held more than 180 careers—including teacher, pediatrician, scientist, lawyer and President of the United States. Despite being the number one fashion doll in the world and being adorn by little girls everywhere, for years now many have criticized Barbie for her unrealistic proportions. As a child, when I played with Barbie, she could have been anything I wanted her to be. I never thought of Barbie's body shape or how skinny she was. In fact, few studies have evaluated the impact of Barbie on young girls regarding body image. Regardless, after 50 plus years, Mattel has added three new body types to the Barbie Fashionistas doll line.
The three new body types-curvy, tall and petite bring more variety into the Barbie doll line. In comparison to the Original Barbie, the Tall Barbie is taller, Petite one is shorter and smaller, and the Curvy one is thicker, she has wider legs and arms and she is also a little bit shorter than original Barbie.
In addition to body types, barbie also has new face shapes, eye colors, and skin tones.
All of the new dolls are equally stunning and fashion-forward. The Barbie Fashionistas doll line reflects the physical beauty that comes in all sizes, features and skin tones. The outfits are stylish and their personalities are bold and confident.
Barbie Fashionistas Doll 22 Chambray Chic Curvy
Barbie Fashionistas Doll 22 Chambray Chic Curvy is my daughter's new barbie. I love her girl next door look. Curvy wears an adorable dress with yellow skirt and a chambray denim top with a a collar and pocket detailing.  Her cute black flats are a casual  look and her bright pink belt adds a pop of color to her outfit.
Each doll in the new line is just $9.99 each, so it's feasible to get two or three. Fashionistas need friends to trade clothes with, after all!
What are your thoughts on the new dolls added to the Barbie Fashionistas doll line?
About Mattel
The Mattel family of companies is a worldwide leader in the design, manufacture and marketing of toys and family products. Mattel's portfolio of best-selling brands includes Barbie®, the most popular fashion doll ever produced, Hot Wheels®, Monster High®, American Girl®, Thomas & Friends®, Fisher-Price® brands and MEGA® Brands, as well as a wide array of entertainment-inspired toy lines. In 2015, Mattel was named one of the "World's Most Ethical Companies" by Ethisphere Magazine and in 2014 ranked No. 5 on Corporate Responsibility Magazine's "100 Best Corporate Citizens" list. With worldwide headquarters in El Segundo, Calif., Mattel's companies employ approximately 31,000 people in 40 countries and territories and sell products in more than 150 nations. Visit at mattel.com.